McCrary inks with Lyon College
Thursday, February 13, 2014
Brody McCrary followed in the footsteps of his older brother Jagger in signing with Lyon College this past Friday at Marked Tree High School. Well...sort of. Brody signed to play football for the Scots while Jagger is in his second year of playing baseball.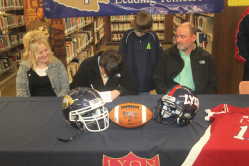 McCrary was part of a recruiting class that totaled 36 as Lyon prepares for the 2015 football season.
"I'm glad to have it (signing) out of the way so I can concentrate of baseball now," McCrary said about how he felt after the ceremony.
Marked Tree football coach Waylon Dunn had nothing but good things about his former signal caller. "Most people think he's real quite and shy, but when he gets that helmet on he's a competitor and most saw that on Friday nights during the season," Dunn said.
McCrary knew Lyon was his choice after a visit around Thanksgiving. "I knew I liked it when I got there. I met the coaches and they were all nice," McCrary said.
Lyon coach Kirk Kelly says he's getting a gem. "We're excited about getting Brody," Kelly said. "We're starting in 2015 and we knew we had to get good people, good football players and good students, and no doubt we got a gem," Kelly added.
Being apart of something special played a role in McCrary's decision. "I wanted to be apart of something special and them getting their football program going again is going to be something special," McCrary said.
McCrary thanked his Mom and Dad along with Dunn and coaches Michael Wages and Derik Drewett for getting to where he's at.