Second half spells doom for Wildcats
Thursday, February 13, 2014
Trumann played Gosnell pretty well in the first half of their senior boys basketball game this past Tuesday night. The second half saw the Pirates take charge and take the win in this 4A-3 conference match-up.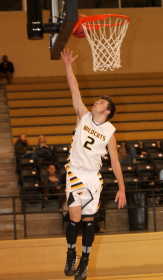 Gosnell went up 4-0 before Trumann got a basket from Westen Gilliam, back to back buckets from Enrico Cristalli and three-ball from the right corner from Tre Simmons to take a 9-4 lead. Gosnell cut it to 9-8 before A.J. Winningham hit a jumper in the lane with 2:34 to play making it 11-8 Wildcats. The Pirates canned a three-pointer then converted a conventional three-point play to go up 14-11. Cristalli scored on a lay up off a nice pass from Winningham, Gosnell hit a free throw and Winningham hit one of two free throws to make it 15-14 Gosnell after one.
Gosnell made it 17-14 with a bucket to start the second quarter. Trumann answered with three straight scores to take a 21-17 lead. Winningham nailed a three-pointer from the top of the key then came back with a basket off an offensive rebound and Simmons went in for a lay up off the fast break. Gosnell cut it to 21-20 before Winningham nailed another three and Cristalli converted an old-style three-point play to make it 27-20 Trumann. Gosnell scored five straight points to make it 27-25 only to see Winningham hit a jumper and Simmons score off another fast break to make it 31-25 with 2:26 left before halftime. Gosnell went on an 11-0 run to take a 36-31 lead. Dalton Carter hit one of two free throws to make it 36-32 Gosnell at the half.
Trumann's offense went cold the third quarter as they were outscored 14-8. Simmons hit a three-pointer after two Pirate buckets to make it 40-35 Gosnell. Winningham hit a three-ball to make it 43-38 Pirates with 4:18 left in the third. Carter hit a jumper in the lane to make it 45-40 before Gosnell scored the last five points of the quarter to go up 50-40 after three quarters of play.
The teams traded points to open the fourth quarter with Winningham getting inside for a score after a Pirate basket and Cristalli hitting two free throws after a Gosnell three to make the score 55-44 Pirates. Gosnell scored the next eight points to take a 63-44 lead with 4:08 left in the game. Winningham hit two free throws, Simmons went coast to coast for a lay up before getting a tip-in basket and Carter had a steal and a lay up to set the final score at 63-52 Gosnell.
Winningham led three Wildcats in double digit scoring with 20 points. Simmons added 14 points and Cristalli netted 11 points.