Delta Byways honors Outstanding Member
Tuesday, February 18, 2014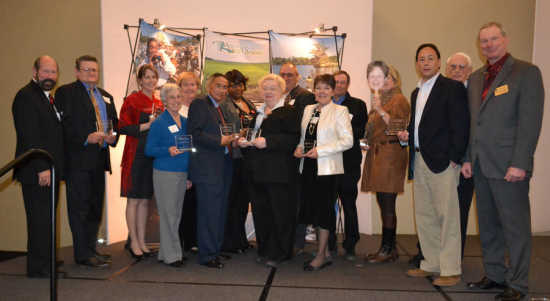 At its 14th annual Delta Awards ceremony for recognizing tourism achievement, Delta Byways recognized Linda Hinton, Director of Southern Tenant Farmers Museum in Tyronza, as an Outstanding Member of the organization.
Hinton has been with the Southern Tenant Farmers Museum, an Arkansas State University Heritage Site, since 2007. She became a member of the Arkansas Delta Byways in 2008, as one of only three members from Poinsett County. The organization has three individuals serving on the board from each of its 15 counties along the Mississippi River.
Arkansas Delta Byways meets four times a year in different counties throughout the region. Hinton said she works hard to attend each meeting and stay involved to promote tourism in the Poinsett County area. Also, as a part of her membership, Hinton has promoted at the Jonesboro Sports Show, helped raise money through the organization's annual silent Auction, and chaired the Nominations and Awards Committee for the past three years.
Hinton said at the awards banquet, she was in shock when her Executive Director began reading the wrong script.
"I thought another member was going to get it," Hinton said. "I was very honored, and it was very unexpected and humbling. I enjoy my job so much, I don't feel like I'm working."
For Poinsett County, Hinton promotes tours, festivals, and other events through the Arkansas Delta Byways brochures, maps and website. She also ensures welcome centers, businesses and other organizations promote tourism for the area.
In addition to serving on the Arkansas Delta Byways board, Hinton is the president of the Sunken Lands Regional Chamber of Commerce, which is made up of citizens from Marked Tree, Tyronza, Lepanto and Dyess. As president, Hinton coordinates some of the biggest attractions for Poinsett County including the Tour duh Sunken Lands Fall Harvest Bike Ride. The ride allows riders to visit the Southern Tenant Farmers Museum, the Painted House in Lepanto, Dyess Colony, and the Marked Tree Delta Area Museum.
"In these small communities, we don't have a lot to offer, but together we have a really nice package for tourists," Hinton said.
Hinton added that 2014 is said to be a big year for Northeast Arkansas with a lot of upcoming activities, including the opening of the Johnny Cash boyhood home as a museum in Dyess. Dyess has been listed as 26 in the top 40 places around the world to visit in 2014, she said.
Along with her hard work in promoting tourism, Hinton is also a member of the Arkansas Museum Association, member of First Baptist Church of Tyronza, board member of the Tyronza Housing Authority, board member of the Poinsett County Library and the Crowley's Ridge Regional Library Board, and chairman of the Tyronza Historic Commission.
Other winners for Delta awards were as follows:
*Media Support Award--Sonny Payne, King Biscuit Time Radio, Helena
*Hospitality Award--Arkansas Welcome Centers, Helena, Lake Village and West Memphis
*Entrepreneur Award--Dr. Cindy Grisham, Multi-County
*Tourism Support Award--ASU Center for Digital Initiatives, Multi-County ;Battle of Helena 150, Helena
*Boot Strap Award--City of Dyess, Dyess; The Great Race, Paragould and Monticello
*Cultural Heritage Award-- WWII Japanese American Internment Museum, McGehee
*Tourism Person of the Year--Cathy Cunningham, Helena