H'burg girls roll over Black Rock
Friday, February 21, 2014
Harrisburg hosted Black Rock in their final regular season game this past Friday in Harrisburg. The night started off special and ended the same way as the Lady Hornets (16-8) rolled to a 66-31 victory.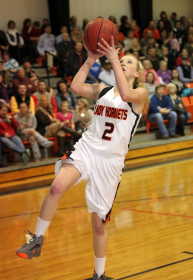 Peyton Craft, who is out with an injury, dressed and stood underneath the Harrisburg goal. Black Rock was gracious in letting Harrisburg control the tip with Kaci Mack getting the ball, dribbling a little past half court before passing the ball to Craft who made a lay up. The crowd got to see one last Mack to Craft pass due to Craft's injury and this being Mack's last year. There were tears on the court and in the stands as two embraced before Craft came off the court.
Black Rock tied the score at two with a jumper before Harrisburg rolled off the next 13 points to go up 15-2 with 5:02 left. Lexi Smith got a steal and a lay up to start the run followed by jumper from Jasmine Burnett and a three-pointer from Makaleigh Riddle. Keely Edwards got a steal and a lay up, Riddle scored off the fast break and then stole the ball and went in for a lay up. The Lady Zebras got back to back three-pointers to cut the lead to 15-8. The Lady Hornets answered with an 8-0 run to go up 24-8. Riddle got another steal and an easy basket, Smith sailed in for a fast break basket, Edwards to a steal and basket and Smith finished the run with a fast break bucket.
The teams traded points for the first half the second quarter. Black Rock opened with a basket, Riddle answered with a basket inside. Abby Wallace scored inside after a Lady Zebra basket to make it 28-12 Harrisburg. Wallace scored again off an offensive rebound between two Black Rock scores making it 30-16. Harrisburg netted the next six points to go up 36-16 with 1:52 left before halftime. Black Rock got a basket with less than a minute to play and Gabbie Smith answered with a three-pointer form the right wing to send the teams to halftime with Harrisburg up 39-18.
Harrisburg came out the third quarter scoring the first nine points to go up 48-18. Riddle started things off with a three-ball from the left wing, Edwards sent coast to coast for a score. Riddle and Edwards then got back to back steals and easy baskets for Harrisburg. The Lady Zebras scored off an offensive rebound before Edwards hit one of two free throws and Riddle came up with another steal an basket to make it 51-18 with 2:22 left. Black Rock canned a three-pointer, Edwards got back to back steals and scores and Black Rock canned another three to make it 55-26 Harrisburg after three quarters of play.
Smith got inside for a Harrisburg score to make it 57-26 and invoke the mercy rule before Burnett got inside for a score making it 59-26 Lady Hornets. Black Rock got a three-pointer and an inside score to make it 59-31 before Harrisburg finished up the scoring with Emily Armstrong drilling a three-pointer, Sara Osban scoring inside and Jessica Webb scoring after grabbing an offensive rebound to set the final at 66-31 Harrisburg.
Riddle led the Lady Hornets in scoring with 18 points as Edwards finished with 15 points.