Hornets cruise past Zebras
Friday, February 21, 2014
The Hornets led from their first basket to the final horn this past Friday night as they ended their regular season with a 68-44 win over Black Rock.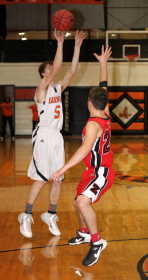 Brayden Honeycutt nailed a three-pointer to open the game for the Hornets. Black Rock answered by hitting one of two free throws before Harrisburg ran off the next 10 points to go up 13-3. Honeycutt drained another three to start the Hornets run. Tyler Cronin followed with a basket off an offensive rebound, Ayson Lamb went in for a lay up and Alec Witt netted a three-ball to close the run with 1:27 left. Black Rock hit two free throws to set the first quarter score at 13-3.
Honeycutt again opened the quarter with a three, this one the old fashioned way to give the Hornets a 16-3 lead. The Zebras scored the next four making it 16-7. Witt hit his second three-ball and then scored inside around a Black Rock to make it 21-7 with 5:16 before halftime. Honeycutt was again good for three between two Black Rock scores to make the score 24-11. Honeycutt connected for his fourth three-pointer of the first half to push the Hornets lead to 27-11. Alex Nicholson scored inside before Black Rock scored the last five points of the half to make it 29-16 at the half.
Lamb connected on a three-pointer and Honeycutt got inside for a score to open the second half and push Harrisburg's lead to 34-16. Black Rock got a jumper to fall and Cade Condra traded three-point baskets with the Zebras to make it 37-21. Honeycutt got inside for another score, Black Rock made two free throws and Lamb hit one of two for the Hornets to make the score 40-23 Harrisburg with 3:09 left. Black Rock hit a jumper before Nathan Neal got his own rebound and scored and Drew Price hit a jumper to make it 44-25. A Zebra jumper made it 44-27 before Asa Walker hit a base line jumper and Neal went coast to coast for a score making the score 48-27 Hornets headed to the final quarter.
Black Rock opened the final quarter with an 8-2 run to cut the lead to 50-35. Lamb got Harrisburg's goal with a lay up during the Zebra's run. Jake Chatman scored inside for Harrisburg and Honeycutt nailed another three-pointer to make it 55-35 with 4:48 left in the game. Black Rock hit two free throws and got a basket inside to cut the lead to 55-39 only to see the Hornets get a score from Price and free throw from Cronin to make it 58-39. The Zebras canned a three-pointer only to be matched with a three-ball from Brad Scharwz to make it 61-42. Black Rock hit a jumper before Harrisburg closed out the scoring with a basket from Walker, a fast break lay up from Connor Haag and a three-pointer from Neal to set the final at 68-44.
Honeycutt led the Hornets in scoring on the night with 24 points as 11 different Harrisburg players scored during the game.