Lady 'Cats win district opener
Friday, February 21, 2014
The Trumann Lady Wildcats (10-15) built a big first half lead then almost saw it slip away in the fourth quarter. The Gosnell Lady Pirates used a 17-6 final quarter to make it close but the Lady 'Cats held on for a 56-50 win in the opening round of the 4A-3 District tournament this past Monday being held in Highland.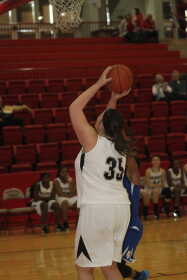 Gosnell got on the board first with a jumper before Kali Bo Conaway answered with a score off an offensive rebound to make it 2-2. Gosnell went ahead with another jumper and Conaway again answered with a basket inside making it 4-4. The Lady Pirates retook the lead at 6-4 with two free throws only to see Trumann get a three-pointer from Hannah Wood to take a 7-6 lead. Gosnell tied it at 7 with a free throw and Trumann took the lead for good with a 13-0 run to end the quarter with a 20-7 lead. Wood had two free throws to start the run and followed it with a steal and lay up. Taelor Gartman hit two free throws before Wood canned a three-ball form the left wing. Dererae Harris hit a base line jumper and Shutavain Jones drove in for a lay up to finish the run.
Jones opened the second quarter with a three-pointer to make it 23-7 Trumann. Gosnell answered with back to back buckets making it 23-11. Wood got inside for a Trumann score, Gosnell hit two free throws and Jones hit two free throws giving the Lady Wildcats a 27-13 lead. Kelcie Rolland scored inside for Trumann, Gosnell hit one of two free throws and Harris scored inside for the Lady 'Cats over the next minute of play to make it 31-14 Trumann. The teams traded points over the next few possessions as Trumann got a jumper in the lane from Rolland and two free throws from Megan McGowan to make it 35-19 Trumann with 2:22 left before halftime. Gosnell cut the lead to 35-24 with five straight points making the score 35-24. Harris answered with back to back score for the Lady Wildcats to make it 39-24. Gosnell got a score right before as Trumann took a 39-26 lead at halftime.
Gosnell opened the third with a basket inside followed by a three-pointer to make 39-31 Trumann. Trumann reeled off the next 11 points to go up 50-31. Rolland scored inside, Jones hit one of two free throws and Gartman and Conaway got back to back inside baskets. Wood hit a jumper and Jones got a steal and went in for a lay up. Gosnell hit a jumper to make it 50-33 headed to the fourth quarter.
Gosnell opened the fourth with baskets around a McGowan free throw to make it 51-37. McGowan hit two more free throws and Conaway scored inside for Trumann before Gosnell scored the next seven points to make it 55-44 with 1:44 left. Trumann got a free throw from Rolland and the Lady Pirates scored the next six points to close the gap to 56-50 with 46 seconds left. Gartman hit one of two free throws with 15 seconds left to set the final at 57-50 Lady Wildcats.
"I thought we played a good first half. Shot the ball good, rebounded well and guarded well," Trumann coach Scott Brown said after the game. "We had a little let down at the end of the third quarter to let them back in it. We've won three in a row and are playing good here of late, Pocahontas will be a better challenge in the next game," Brown added.
Wood led the Lady Wildcats with 14 points as Jones chipped in with 10 points.
Pocahontas 48 Trumann 43
Trumann got 20 points from Taelor Gartman and 12 from Kali Bo Conaway but it wasn't enough as the Lady Redskins ended the Lady Wildcats' season this past Tuesday night.