Trumann gets early exit from district tournament
Friday, February 21, 2014
Trumann's Wildcats (6-17) couldn't find an answer to Valley View's hot offense this past Monday in the 4A-3 district tournament in Highland. The Blazer took the lead early in the game and cruised to a 81-52 victory to end the Wildcats' season.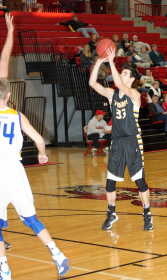 The teams traded baskets over the first couple minutes of the game with A.J. Winningham hitting a jumper and Westen Gilliam scoring inside to make it 5-4 Valley View. The Blazers scored the next eight points to increase their lead to 13-4. Trumann got consecutive baskets from Tre Simmons and two scores from Gilliam to cut the lead to 13-10. Valley View responded with back to back scores making it 17-10 before Enrico Cristalli hit a jumper in the lane making it 17-12 Blazers. Valley View added a score and Gilliam hit one of two free throws to make the score 19-13 Valley View after one.
Valley View opened the second quarter with an 8-2 run to go up 27-15. Cristalli had a jumper for the Wildcats only points during the Blazer run. Taylor Wilson hit one of two free throws for the Wildcats, Valley View hit two free throws and Cristalli was good on a jumper for Trumann to make the score 29-18 Valley View. A Blazer lay up followed by a Simmons three-pointer and a Gilliam conventional three-point play made the score 31-24 with 1:36 before halftime. Valley View scored back to back buckets to end the quarter taking a 35-24 lead to the half.
Simmons got inside for a Trumann score to open the third quarter before Valley View got back to back scores to make it 39-26. Gilliam was fouled scoring an inside basket and with the successful free throw made it 39-29 with 6:20 left. Trumann's offense went cold as they only got three more baskets in the quarter. Simmons canned a three pointer, Winningham scored on a lay up before netting a three-pointer as the Blazers took a 59-37 lead to the final quarter.
The Blazers opened the final quarter with seven straight points to go up 66-37. Trumann got a three-ball from Winningham to make it 66-40. Cristalli hit a jumper in the lane after a Blazer bucket making it 68-42. Simmons and Winningham got back to back scores making the score 73-46 Valley View with 3:54 left. Gilliam scored inside make it 75-48 and Cain White scored after an offensive rebound making it 79-50 Valley View. Gilliam hit a jumper late to set the final score at 81-52 Blazers.
"I thought the kids played hard, we came out with a pretty good game plan," Trumann coach Skip Dulaney said after the game. "Valley View has three outstanding players and it's hard to guard all three of them. Hats off to Valley View on a great game plan," Dulaney added.
"I'm proud of my seniors and I'm going to miss them," said Dulaney.
Gilliam led the Wildcats in scoring with 17 points as Winningham and Simmons both hit double digits with 12 points each.