Lady Hornets punch ticket to regional tournament
Friday, February 21, 2014
After two close regular season meetings with each team getting a win, Harrisburg (17-8) increased their lead at the end of each quarter before posting a 55-44 win over Earle to advance to semi-finals of the 3A-3 district tournament being played in Harrisburg. The win also qualifies the Lady Hornets for next week's regional tournament in Mountain View.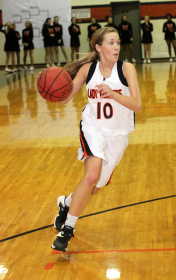 Earle scored first to take an early 2-0 lead before Harrisburg got a three-pointer from Makaleigh Riddle and two free throws from Keely Edwards after in intentional foul on Earle to make it 5-2 Harrisburg. Earle took a 6-5 lead on back to back buckets. Kaci Mack tied the game a 6 hitting one of two free throws and Riddle canned her second three-pointer to put the Lady Hornets up 9-6 with 2:42 left. The Lady Bulldogs got a steal and an easy basket and Harrisburg got a base line jumper from Mack to make the score 11-8 Harrisburg after one.
The offenses picked the pace in he second quarter. Earle cut the lead to 11-10 with a basket to start the second before Riddle scored the next six points for Harrisburg to make it 17-10. Riddle scored inside, canned another three-ball and hit one of two free throws during her run. Earle went on an 8-3 run to cut the lead to 20-18 with 2:04 left in the half. Mack hit a jumper and Hunter Lewis hit one of two free throws during the run. Harrisburg got a old-fashioned three-point play from Mack to make it 23-18. Edwards hit one of two free throws and grabbed the rebound off her missed free throw and scored to increase the Lady Hornets lead to 26-18. Earle added a free throw late to send the teams to halftime with Harrisburg leading 26-19.
Mack hit a jumper between Lady Bulldog scores early in the third to make it 28-23 Harrisburg. The Lady Hornets stretched their lead to 33-23 after Edwards hit two free throws and Abby Wallace hit a free followed by a jumper in the lane. Earle cut the lead to 33-28 only to see the Lady Hornets get a jumper from Edwards and inside scores from Lewis and Edwards to push the lead back to 39-28. Earle got a score and Wallace hit a base line jumper to make it 41-31 Harrisburg headed to the final quarter.
Edwards and Riddle each hit a free throw around an Earle three-pointer to make the score 43-34 Harrisburg early in the fourth quarter. Earle cut the lead to six only to see Mack hit four straight free throws and a Jasmine Burnett inside basket to make it 49-37 with 3:24 left in the game. Earle got it to 51-44 with a 7-0 run before Harrisburg scored the last six points, on all free throws, to win 55-37. Edwards hit two free throws, Lexi Smith hit one and Mack hit three for Harrisburg.
"I thought our girls played so hard and were in there for the whole game, Earle played hard too and we just came out on top tonight," Harrisburg coach Eric Teague said. "We were glad to have Kaci Mack and her experience there at the end of the game handling the ball," Teague added.
Mack led three Lady Hornets in double figures with 17 points. Edwards added 13 points and Riddle finished with 13 points.