Harrisburg ousted from district tournament
Friday, February 21, 2014
The Hornets (12-16) game plan looked to be working as they jumped out 8-0 and led 14-11 after one. Earle made adjustments to come back to lead at the half and slowly kept building on their lead on the way to a 73-62 win in the 3A-3 district tournament being held in Harrisburg. The loss ended the Hornets season.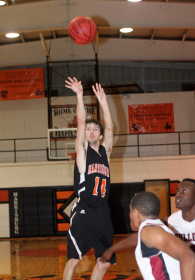 Drew Price scored an inside bucket to start game and Cade Condra hit back to back three-pointers to give Harrisburg an early 8-0 lead. Earle got on the board with a three-pointer and Price hit one of two free throws for the Hornets making it 9-3. An Earle basket and a free throw from Ayson Lamb made the score 10-5 with 3:43 left in the quarter. Earle cut it to 10-9 with back to back scores. Alex Nicholson pushed the Harrisburg lead to 12-9 with a score down low. Lamb's basket after a Bulldog score made it 14-11 Hornets after one.
Earle opened the second quarter with 9-3 run to take a 20-17 lead. Nicholson had a free throw and Lamb hit two free throws for Harrisburg during the run. Price hit two free throws, Nicholson added a free shot and Price hit a jumper in the lane to tie the game at 22 with 2:12 left before halftime. Brayden Honeycutt made two free throws and Jake Chatman scored inside before Earle ran off seven points to make it 31-26 Bulldogs. Condra got a bucket for the Hornets with about half a minute left to make it 31-28 Earle at the half.
Much like the beginning of the second quarter, Earle opened the third quarter with a 9-2 run to go up 40-30. Nicholson scored down low for Harrisburg during the Earle run. Lamb went coast to coast for a score and Price converted a conventional three-point play to make it 42-35 Earle with 4:49 left. Harrisburg cut it to 44-42 with a Price bucket off an offensive rebound, a Honeycutt three-ball and a Lamb jumper. Earle responded with the next six points to make it 50-42. Lamb hit two free throws with less than a minute left to make ti 50-44 Earle after three quarters of play.
Nicholson got back to back buckets for the Hornets to start the final quarter making it 50-48 Bulldogs. Lamb's free throw at 5:14 made it 53-49 Earle before the Bulldogs got a three-pointer and and a steal and lay up to go up 58-49. Price scored inside for Harrisburg before Earle hit six straight free throws and then added a basket inside to push their lead to 66-51. Lamb scored inside then added two free throws to cut the lead to 66-55. Lamb hit one of two free throws with just over a minute left then hit a basket with just under a minute left to make ti 71-58 Earle. Price and Alec Witt scored back to back buckets before Earle hit two free throws to set the final score at 73-62.
"Our game plan worked for the most part, we gave them a couple runs that hurt us," Harrisburg coach Kenton Weaver said after the game. "We took some poor shots and threw the ball away a couple times and you can't do that against a team like Earle. I thought our kids played and they battled all night, Earle just won the game."
"I had a great group of seniors, the knew what they needed to do win," Weaver added.
Lamb scored 19 points to lead the Hornets as Price and Nicholson reached double figures with 16 and 10 points respectively.