Patel talks volunteer service with Trumann Lions
Monday, February 24, 2014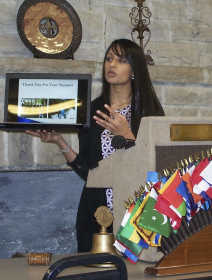 Jigna Patel, a member of the American Optometric Association, spoke to the Trumann Lions Club recently about Student Volunteers in Optometric Service to Humanity (SVOSH), an organization which provides free eye exams and eyeglasses to needy people in Central and South America.
Patel is currently in her third year as a student at Southern College of Optometry in Memphis and is a Lions Club member there. SVOSH at SCO is the student chapter of VOSH International. Patel said SVOSH raises funds and collects glasses for the mission trips. Last year SVOSH visited nine countries.
"A lot of the patients we see are children who never had someone to check their eyes," Patel said. SVOSH also provides sunglasses and education about the importance of wearing them, especially in countries around the equator.
The last trip Patel went on was to Belize City, where SVOSH volunteers helped around 450 patients a day. SVOSH volunteers perform visual acuity exams, check ocular health, determine prescriptions and dispense glasses. They are also able to detect things like diabetes and hypertension and refer patients to local doctors to get the help they need.
"The reason we go is because we want to help these people. Sixty percent of our patients have a disease we're able to help. We dispense between 4-5,000 glasses each trip," Patel said.
SVOSH was founded in 1975 by second year student Donald Holbrook after his father went to Costa Rica and noticed the rural people there lacked medical care.
While SVOSH is primarily about helping the patients, Patel said it helps the students too. "We can go as first year students, and our skills improve drastically," she said.
The Trumann Lions Club will make a donation to SVOSH.