Ruby Gosa
Wednesday, February 26, 2014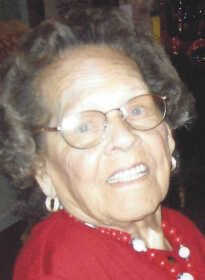 TRUMANN -- Mrs. Ruby J. Gosa, 84, died Feb. 9, 2014 at her home in Trumann. She was born in Pleasanton, Miss., and had lived most of her lifetime in Trumann. Mrs. Gosa was a homemaker and a member of First Assembly of God. She was preceded in death by her husband, Mitt Gosa; two sons, Ronnie Gosa and Charles Gosa; two sisters; and her parents, V.D. and Jaskie Wright Brewer.
She is survived by two daughters, Cassie Warden and Angela O'Brien of Trumann; three sisters, Inez Eldridge of Trumann, Wilma Jean Hatley of Arkadelphia, Ark., and Diane Butler of Paragould; 12 grandchildren; 18 great-grandchildren; and six great-great-grandchildren.
Funeral services were Feb. 12 in the chapel of Thompson Funeral Home in Trumann, with Rev. Kenneth Doke officiating. Burial followed in Potter's Memorial Cemetery in Lepanto.
Pallbearers were Adam Gosa, Heston O'Brien, Tommy Miller, Brian Loudermilk, Jarod Reed, and Gary Owens. Honorary pallbearers were Don Ragsdale, David Phillips and Chad O'Brien.
An online register book can be signed at www.thompsonfuneralhome.net.