Clyde Robertson, Jr.
Wednesday, February 26, 2014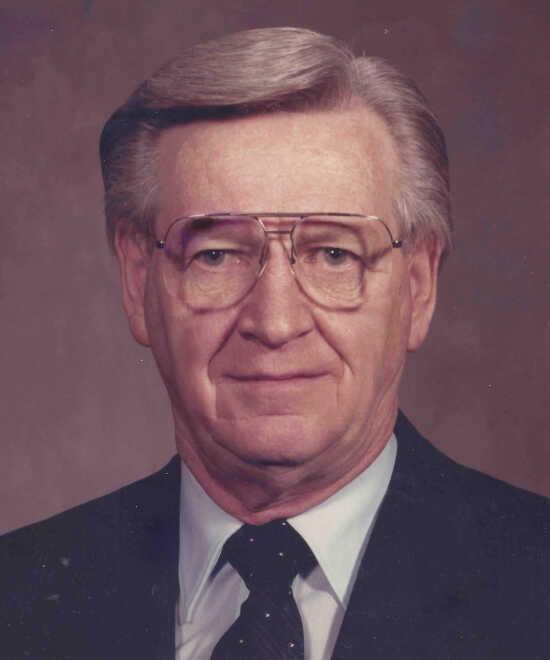 TRUMANN - Mr. Clyde Robertson Jr., 90 of Trumann passed away Sunday, Feb. 23, at his home surrounded by his loving family. He was a member of the First Baptist Church in Trumann.
He was born in Trumann on Sept. 19, 1923 to Clyde David Robertson and Tinie Ames Robertson. He lived his entire life in Trumann.
Following high school and business college, Clyde Jr., began his long career in banking at the Bank of Trumann in May of 1941. He advanced during his 57 years at the bank. He was President and Chairman of the board and CEO for eleven years. He retired in 1998. Through his leadership the bank experienced growth and stability. Now Southern Bancorp the bank continues to be a pillar of the community. Clyde was also a past member of the Lions Club and Masonic Lodge. He loved playing golf, fishing and growing roses.
Clyde developed many friendships over the years and cherished them all. He was preceded in death by his parents and wife of 60 years, Linnie Parnell Robertson and one brother, Ewell Robertson and his sisters, Cordia Judd, Pearl Harlan, Clara Houston and Juanita Harlan.
He is survived by a brother Herman Robertson (Loretta) of Trumann; two daughters, Judy (Leslie) Holt of Greers Ferry and Sandy (Osee) Nunnally of Trumann; four grandchildren, Sonya Holloway of Elba, Ala., Christy (Greg) Whitlock of Trumann, Les (Angelina) Holt of Cave City and Misty Matney of Trumann; six great-grandchildren, Tiffany and Matthew Whitlock, Dylan Matney, Haley Jo Holloway, Seth & Sidney Holt, Caregivers, Lisa Robertson, Brenda Russell and Whitney King. Funeral services were Feb. 26 at the First Baptist Church in Trumann with Bro. Gary Barker, Bro. Michael Jernigan and Rev. John Maley officiating. Burial followed in the Jonesboro Memorial Park Cemetery in Jonesboro under the direction of Thompson Funeral Home in Trumann.
Pallbearers were Matt Moon, John Stuckey, Barry Wood, Paul McAnally, Rick Gillette and Anthony Patterson. Honorary Pallbearers were Carroll Anderson and James Wallace.
Memorials can be made to the First Baptist Church, P.O. Box 575, Trumann, AR 72472 or the Church of God, 911 Balcom, Trumann, AR 72472.
Online guest book can be signed at www.thompsonfuneralhome.net