Trumann Chamber holds annual banquet
Saturday, March 1, 2014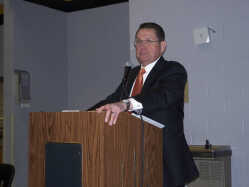 Collaboration was one of the major points emphasized by Jonesboro Mayor Harold Perrin during his keynote speech at the Trumann Chamber of Commerce banquet Monday night.
Perrin had been mayor for nine weeks when the 2009 ice storm hit. His first morning after the storm, he got a call from the mayor of Stuttgart who offered to send volunteers to help clean up Jonesboro. At other times, Jonesboro has sent knuckle boom trucks to help out in Trumann. Perrin said the cities in Arkansas never hesitate to help each other. "We're all very close family members," he said. "In Jonesboro and Trumann, we work together on a lot of projects."
"Jonesboro has to depend on Trumann for our workforce. We know that," Mayor Perrin said.
Perrin spoke about the growth seen in Northwest Arkansas and said Northeast Arkansas would grow too if the cities worked together. "If we all work together in a collaborative effort, we will survive and grow our cities," he said.
"Whatever Jonesboro's needs are, they are the same as Trumann's. And that's reversed. Whatever Trumann's needs are, they're the same as Jonesboro's," Mayor Perrin said.
This year's Trumann Chamber banquet was dedicated to the memory of Fire Chief Rick Winkles, who suffered a heart attack while on call in January. "You all have suffered a lot of tragedy," Perrin said, "but there's always a brighter day. May God bless Jonesboro and Trumann. May we have the wisdom and courage to get together and work for you all because that's what God would want."
During the banquet, Senator David Burnett and Representative Wes Wagner made a couple announcements. They presented County Assessor Johnny Rye with a capitol citation and announced Trumann would receive $140,000 in General Improvements Funds to go toward the adult education center and $40,000 to clean up dilapidated houses.
2013 Chamber awards went to Gary McClung (Outstanding Educator), Hazel Riley (Citizen of the Year), Wayne Garahan (Excellence in Agriculture), Rick Winkles (Outstanding Chamber Member), Wally Shrader (Outstanding Chamber Board Member), Roach Conveyors (Business of the Year), and Rev. John Booker (Community Service Award).
After serving as Chamber President for three years, Neal Vickers passed the office to Paul McAnally for 2014. Other 2014 Chamber officers include: Bob Sowell (President Elect), Rick Gillette (Treasurer), and Wally Shrader (Secretary). The Board of Directors are Myra Graham, Jimmy Franklin, Ronnie Harrison, Jonathan Higgins, Scotty Jones, Taylor Morgan, Larry Rich, Linda Smith, Jason Stewart, and Lisa Young.