Tyronza hosts simulation training for area police
Sunday, March 2, 2014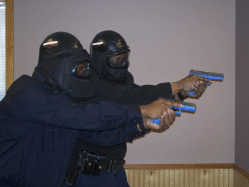 Eleven officers from Tyronza, Marked Tree, and Lepanto met at the Tyronza Fire Department Tuesday for an intensive reality-based training offered through the Criminal Justice Institute in Little Rock.
According to Russellville Police Officer Matt Jacobs, who served as one of the instructors, officers were placed in various scenarios, such as theft and traffic stops, where they had to react using all their skills from communication to lethal force. The training uses simulated weapons, with marking rounds to show when an officer has been hit, as well as pepper spray and tasers.
"The idea behind reality-based training is to give officers experiential training," Jacobs said. "The biggest thing is give them a variety of experiences. We put them through scenarios they may see on the street so they can see how they react and tweak that reaction for real life."
"This is some of the most realistic training you can have for officers," said Tyronza Police Chief Tony Turner, who also went through the training. He said the scenarios resemble actual calls officers could be answering on any given day.
Chief Turner said he invited neighboring police departments to the training because they work together so often. "This gives us an idea of how other agencies conduct themselves so we can all better work together. Any time we can do this together, it makes training that much better."
Another reason he wanted to bring the training to Tyronza was the Below 100 initiative Arkansas has taken on to reduce the number of police fatalities to less than 100 a year. In 2013, 113 officers were killed in the line duty. "The more training we do, the less likely one of us is to get killed," Chief Turner said.