Bay gets by RCS to make district finals
Friday, February 28, 2014
Bay and Ridgefield Christian School (RCS) both looked sluggish in the opening quarter of their 1A-3 East district semi-final match-up last Wednesday in Armorel. Bay led 9-6 after the first quarter and went on to increase their lead each quarter on the way to a 55-37 win over the Warriors.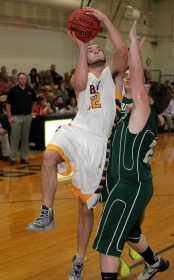 Kylor Skaggs got Bay on the board with a jumper before RCS got two free throws to tie the game at 2-2. Jonathan Crain scored inside for a 4-2 Bay lead only to see the Warriors tie it with a jumper. Dustin Utley gave Bay the lead for good with a three-pointer from the right wing and Skaggs followed with two free throws to put Bay up 9-4. RCS got a basket right before the buzzer to make it 9-6 Bay after one.
The 'Jackets opened the second quarter with an 8-0 run to push their lead to 17-6. Cade Prince grabbed an offensive rebound and stuck it back in, Nolan Smith canned a three-ball from the right corner and Skaggs hit one of two free throws before coast to coast for a lay up for Bay. RCS responded with a 7-0 run of their own to make it 17-13 with 2:56 left before halftime. Matthew Willard got inside to score for Bay to make it 19-13 Bay at the half.
Skaggs sandwiched a basket between two RCS scores to make it 21-17 early in the third. Taylor Layne and Crain got back to back baskets for Bay to push their lead to 25-17 with 6:14 left to play. Crain hit two free throws after a RCS basket and then hit one of two free shots after another Warrior score to make it 28-21 Bay. The 'Jackets scored the last five points of the quarter after a RCS score to make it 34-23 Bay at the end of three quarters of play. Layne hit one of two free throws, Skaggs made a conventional three-point play and Utley hit a jumper.
Bay opened the final quarter with a 10-0 run to make it 44-23. Utley hit a free throw before scoring inside, Layne scored off the fast break, Skaggs was good on a jump shot and Layne converted a old-fashioned three-point play during the Bay run. Layne hit two free throws between two RCS three-pointers to make it 46-29 with 4:11 left in the game. Bay reeled off the next nine points to make the score 55-29 Bay. Layne canned a three-pointer, Skaggs and Layne hit back to back inside shots and Tyler Harrell scored off an offensive rebound for the Yellowjackets. RCS scored the last eight points to make the final 55-37 Bay.
"We got in foul trouble early and didn't play very well defensively," Bay head coach Brad Brannen said after the game. "I thought they out hustled us for three quarters and in the fourth we started doing the t things we've done all year, blocking out, rebounding, diving after balls and I think that changed the game," Brannen added.
Skaggs led the 'Jackets in scoring with 16 points and Layne finished with 15 for Bay.
Bay 70 Maynard 60
Bay downed Maynard this past Friday in the district finals to claim the title.
Skaggs finished with 24 points, Layne scored 23 points and Utley chipped in 10 for Bay.