Bay girls fall to Armorel in district semis
Friday, February 28, 2014
After leading early, then getting behind before coming back and tying the game headed into the final quarter, the Lady Yellowjackets of Bay couldn't overcome the fast start of Armorel in the fourth quarter as the Lady Tigers beat Bay 56-50 to advance to the 1A-3 East district finals. Both teams qualified for the 1A Region 2 Regional tournament being held at Izard County Consolidated.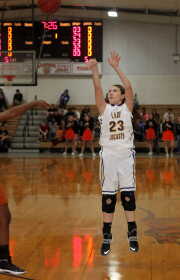 Katie Ferguson opened the scoring with a three-pointer from the left wing to stake Bay to a 3-0 lead. Armorel came back with back to back conventional three-point plays to go up 6-3. Raven Francomano and Brittney Roedel made back to back jumpers before Ferguson, Rush and Roedel hit six straight free throws to make it 13-6 Bay with 2:32 left. The Lady Tigers cut the lead to 13-9 with a jumper and one of two free throws made. Roedel added two more free throws with one second left to make it 15-9 Bay after one.
Armorel came out on fire in the second quarter going on a 17-2 run to go up 26-17 with 3:03 to go before halftime. Rush's base line jumper were the only points for Bay during the run. Ferguson made it 26-20 canning a three from the right wing for Bay. Armorel got a score off an offensive rebound before Bay cut the lead to 28-25 with two free shots from Roedel and another three-ball from Ferguson. Armorel added a free throw late to make the score 29-25 Lady Tigers at the half.
The teams traded baskets early in the third with Rush hitting a three-pointer for Bay in between two Armorel baskets to make it 33-28 Armorel. Francomano hit a jumper and Ferguson canned another three-pointer to tie the game at 33. Armorel reeled off the next six points to go up 39-33 with 1:55 left. Ferguson scored the next two baskets for Bay and was fouled after the second basket. Ferguson added the free throw to make the score 39-38 Lady Tigers. Armorel took a 41-38 lead with a basket before Ferguson hit one of two free throws, Roedel added one of two free throws and Ferguson made a free throw after Armorel was whistled for a technical foul. Those late free throws for Bay made it 41-41 at the end of three quarters of play.
Armorel outscored Bay 7-1 to open the fourth taking a 48-42 lead that the Lady 'Jackets could never recover from. Rush hit a free throw for Bay's point. Roedel cut the lead to four with an inside basket only to see the Lady Tigers push it back to a 52-44 lead with back to back scores. Roedel and Ferguson each hit two free throws apiece to make it 52-48 with 3:47 left to play. Armorel hit one of two free throws and Ferguson hit a jumper for Bay to make it 53-50. The Lady Tigers hit a jumper making it 55-50, Roedel got a steal and a lay up and Armorel hit one of two free shots to set the final at 56-52 Lady Tigers.
"We didn't play very good tonight. We didn't handle the ball well and got out rebounded on both ends of the court," Bay head coach Chip Layne said. "We had a chance there at the end but just couldn't get it done," Layne added.
Ferguson led Bay in scoring with 24 points as Roedel netted 18 points for the Lady 'Jackets.