Warriors prevail in close battle with Augusta
Friday, February 28, 2014
In a back and forth game all night, EPC (23-5) built a seven point lead heading to the final quarter and withstood Augusta's comeback to claim a 39-36 win over the Red Devils and advance to the 2A-3 district title game this past Thursday in Monette.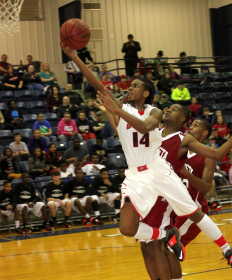 Byron Scales gave the Warriors an early 2-0 lead with a basket inside before Augusta's jumper tied the game about a minute later. Clay Malone got inside for a score to make it 4-2 only to see the Red Devils score the next seven points to take a 9-4 lead with 3:46 left to play. Byron Scales hit two free throws and then followed with a basket while being fouled. His free throw was good to make it 9-9 and that is where the game stood after the first quarter.
The second quarter was much like the first, not many points scored. Paul Pilgrim scored down low to give the Warriors an 11-9 lead before Augusta hit four straight free throws to go up 13-11. Des Barnes and T.J. Young hit back to back three-pointers for EPC to make it 17-13 with 3:36 left before halftime. Augusta answered with a basket inside and a three-ball to take a 18-17 lead to the half.
EPC's defense stiffened allowing only four points in the third quarter. The Warriors ran off the first seven points of the quarter to go up 24-18. Augusta got a three-pointer to fall followed by a jumper to make it 24-23 EPC. Chris Whitfield sailed in for a lay up and Aaron Scales scored inside in the last minute of the quarter to give EPC a 28-23 lead headed into the final quarter.
The fourth quarter saw the most points scored of any quarter all night. Augusta opened with a three-ball to make it 28-26 EPC. Pilgrim got a jumper to fall and Malone hit one of two free throws to make it 31-26. The Red Devils got back to back scores to make it 31-30 Warriors with 3:32 left in the game. Byron Scales scored off an offensive rebound and Augusta hit a jumper making it 33-32 EPC. Whitfield nailed a three-pointer from the top of the key and Pilgrim netted a a jumper to give the Warriors a 38-32 lead. Augusta scored back to back baskets to make it 38-36. Whitfield hit one of two free throws with two seconds left to make it 39-36 and the Red Devil's full court shot fell short giving the Warriors the victory.
"It was pretty ugly tonight," EPC head coach Josh Hill said after the game. "They are really hard to score on around the rim and four of sixteen free throw shooting was terrible. We did a nice job defensively but we've got to be better offensively if we want to play for a few more weeks," Hill added.
Byron Scales led the Warriors in scoring on the night with 11 points.