Lady Indians fall in district championship
Friday, February 28, 2014
Marked Tree's game plan worked great the first half of the game keeping the game close. Marmaduke got both sides of the ball working in the second half as they went on to top the Lady Indians 65-49 to claim the 2A-3 district championship this past Friday in Monette.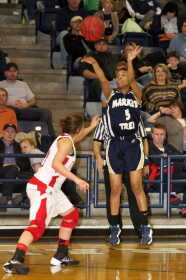 The game started out slow with no team scoring in the first minute and half of play. The Lady Greyhounds finally got on the board with a three-ball to go up 3-0. Lexi Perry scored inside for Marked Tree to make it 3-2 before Marmaduke got a jumper to fall to go up 5-2. Marked Tree ran off the next eight points with Jay Perry getting back to back scores, Lexi Perry hitting two free throws followed by two free throws from Jay Perry to put Marked Tree up 10-5 with 2:17 left in the the opening quarter. Marmaduke responded with a 9-2 run of their own to retake the lead at 14-10. Jay Perry hit a jumper for the Lady Indians lone score. Jay Perry cut it 14-13 with a free throw with 17 seconds left only to see the Lady Greyhounds hit a jumper at the buzzer to go up 16-13 after one.
Marmaduke pushed the lead to 21-13 with a jumper and three-ball to open the second quarter. Kambria Marshall and Jay Perry got back to back scores for Marked Tree to make it 21-17 Lady Greyhounds. Dez Reel hit a jumper before a Lady Greyhound basket to make it 27-19 Marmaduke. Marked Tree again went on an 8-0 run to tie the game at 27. Jay Perry went coast to coast for a score, Lexi Perry and Reel scored baskets inside and Jay Perry hit two free throws to end the run. Marmaduke got a score with just over a minute left and Jay Perry hit two free throws with 18 seconds left to send the teams to halftime tied 29-29.
Marmaduke opened the third quarter with a 12-2 run to take a 41-31 lead. Tullia Tull hit two free throws for Marked Tree's points during the run. Lexi Perry scored inside then hit two free throws after being fouled to make it 41-35 Marmaduke. The Lady Greyhounds ended the quarter with a three-pointer and basket down low to take a 46-35 lead to the final quarter.
Marked Tree got back to back scores from Lexi Perry to make ti 46-39 and Kelsey Pitt's three-ball from the left wing made it 48-42 Marmaduke. Reel converted a conventional three-point play with 4:25 left to make the score 51-45 Lady Greyhounds. Marmaduke scored the next eight points to go up 59-45. Jay Perry canned a three-ball with 56 seconds left and added one of two free throws with 26 seconds left before Marmaduke scored the last four points to post a 65-49 victory.
"I thought we played well, didn't get some stops late, we kept letting them extend it ahead of us and we had to chase, which is what they like," Marked Tree head coach Derik Drewett said after the game. "Game plan worked great the first half but we needed to get that lead and make them chase but we couldn't get over the edge against them," Drewett added.
Jay Perry led the Lady Indians with 21 points and Lexi Perry finished with 10 points.