Susan Hale-Jones
Thursday, March 6, 2014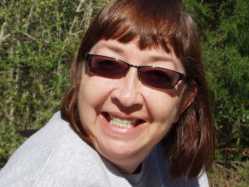 MARQUEZ, TEX. - Susan Ann Hale-Jones, age 55, of Marquez, Texas was born on November 10, 1958 in Moline, Illinois and was raised in Trumann. She was a systems analyst for Compuware Corp. She and her husband, John, moved to their place near Marquez about 13 years ago. They had lived in Aledo, Texas near Ft. Worth.
Susan had always loved animals and spent much of her adult life rescuing a variety of animals such as donkeys, horses, mules, dogs and cats. She enjoyed being out-of-doors and interacting with her animals. Susan passed away on February 27, 2014 at her home.
She was preceded in death by her father, Thomas Theodore Hale; by her step-father, Walter "Bud" Deiss; a niece, Samantha Hale; grandparents, Jimmy and Billie Parks and Eck and Iola Hale and by a step-son, Joshua Lincoln Jones, Sr. Surviving family includes her husband, John Jones of Marquez; her mother, Margaret Diess of Trumann; two brothers and sisters-in-law, Kelly and Rohani Hale of Houston and Thomas and Beth Hale of Russellville; a step-son, Johnnie B. Jones of Columbus, Miss.; two grandsons, Kaden Jones and Joshua Lincoln Jones, Jr.; a niece, Jameson Hale; and two nephews, Johnathan and Jordan Hale.
Susan's family has requested that any memorials be made as a donation to the Peaceful Valley Donkey Rescue, P. O. Box 216, Miles, Texas 76861.
Arrangements were under the direction of Walters Funeral Home in Centerville, Texas.