Lady 'Jackets fall in regional tournament opener
Thursday, March 6, 2014
A weak second half performance after a solid first half kept the Bay Lady Yellowjackets from a trip to the state tournament.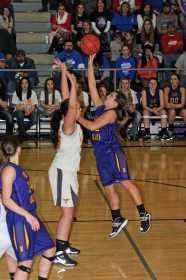 The Lady 'Jackets earned a 30-all tie against the Viola Lady Longhorns going into the locker room at the half, but a nine point second half allowed Viola to punch a state ticket with a 54-39 victory on Feb. 27 in the 1A Region 2 Tournament at Izard County Consolidated High School in Brockwell.
There were four lead changes in the first quarter with Bay holding leads at 3-2 on a trey by Brittany Roedel, and 8-6 off a shot by Katie Ferguson, and they tied the game at 13-all when Roedel hit one of two free throw attempts, but Viola finished the quarter with buckets by Lakynn Brown and Tristan Burden to take a 17-13 advantage.
Bay turned the tables on the Lady Longhorns in the second getting three-pointers from Emily Rush and Ferguson, plus shooting 5 of 6 from the free throw line to grab a 30-26 lead with under two to play in the half. Viola got scores from Haylee Conners and Hannah Duvall to tie the game at 30-all.
In the third, Bay had six turnovers, no offensive rebounds, and no answer for Viola's Brown. Brown scored seven in the quarter. Higgins had the only field goal for the Lady 'Jackets. Roedel hit a single free throw and Ferguson hit two for the charity stripe. Viola led 44-35 by the end of the period.
Roedel hit a basket and had two free throws early in the fourth, but those were the only points Bay could manage in the quarter.
Viola was led by Brown with 16 points, Kiersten Moore had 14, and Conners 11.
Roedel led Bay with 14 points and Ferguson added 13.