Fast start carries EPC to win over Salem at regional
Thursday, March 6, 2014
EPC jumped out to an 11-0 and never looked back as they went on to down Salem 60-46 in the 2A North Regional basketball tournament last Thursday in Pangburn.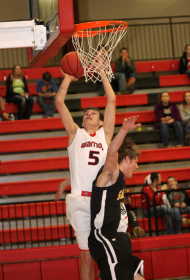 Byron Scales was hot early for Warriors scoring the first six points of the game with a basket inside, a one handed dunk and a basket off an offensive rebound to make it 6-0. Paul Pilgrim hit a jumper in the lane and T.J. Young nailed a three-pointer from the top of key to make it 11-0 with 4:01 left. Salem got on the board with a jumper and Clay Malone hit two free throws and Byron Scales got inside for a score to make it 15-2 Warriors after one.
T.J. Young hit his second three-pointer around Salem scores to make it 18-6 EPC early in the second quarter. Pilgrim had back to back scores around a Salem three-ball and T.J. Young added two free throws to make it 24-9 with 5:26 left in the quarter. The Greyhounds had back to back scores to make it 24-13 only to see EPC go on an 11-2 run to end the quarter leading 35-15. T.J. Young hit another three-pointer to start the run, Byron Scales hit one of two free throws followed by a running jumper and Clay Malone hit a base line jumper followed by a three-pointer from the left wing.
Salem opened the third scoring the first four points before Malone scored inside to make it 37-19 Warriors. Byron Scales' two-handed slam and Malone's two free throws after a Greyhound three-pointer made it 41-22. Salem reeled off the next nine points to cut the lead to 41-31 with 3:43 left in the third. Malone scored inside and Chris Whitfield had a steal and lay up before Salem drilled a three-pointer to make it 45-34 headed to the final quarter.
Salem cut the lead with back to back scores opening the fourth quarter making it 45-38. EPC answered with the next seven points as Pilgrim hit one of two free shots, Whitfield scored off an offensive rebound and Pilgrim scored back to back bucket for the Warriors. Salem got a basket inside and converted a three the old way only to see Byron Scales score inside before Whitfield hit a free throw and follow with a basket to make it 57-43 with 1:36 left in the game. Salem scored inside and hit one of two free throws before Aaron Scales closed the scoring hitting three of four free throws in the last minute of play for EPC to make the final score 60-46.
"I thought we played really well the first half," EPC head coach Josh Hill said after the game. "We didn't panic when they made their run the second half, getting big lead in the first half really helps in that situation," Hill added.
Malone led three Warriors in double figure scoring with 16 points. Byron Scales finished with 12 points and Pilgrim netted 11 points.
EPC will play Junction City in the opening round of the Class 2A state playoffs in Hampton on Saturday, March 7 at 3:30 pm.