Warriors have no answer for T'Wolves
Thursday, March 6, 2014
The Warriors had no answer for Cedar Ridge Timberwolves this past Friday in the 2A North Regional tournament in Pangburn. The Timberwolves jumped out to a 15-0 lead and cruised to a 58-25 win.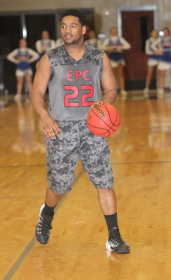 Byron Scales got the Warriors on the board with 2:42 left in the quarter to make it 15-2 Cedar Ridge. Paul Pilgrim's free throw made it 18-3. Byron Scales and Aaron Scales hit back to back baskets in the final minute to make it 21-7 after one quarter of play.
Byron Scales opened the second quarter with a basket inside before Cedar Ridge ran off the next six points to make it 27-9. The teams traded points the remainder of the quarter. Des Barnes hit a jumper and Pilgrim made two free throws around a Timberwolves three-pointer to make it 30-13 with 4:08 left before half. Aaron Scales scored off the fast break and Pilgrim hit two free throws to make it 34-17 at halftime.
Byron Scales and Chirs Whitfield scored baskets around a Cedar Ridge three to make it 37-21 Timberwolves. Cedar Ridge scored the next 12 points to go up 49-21 with 2:03 left in the third quarter. Whitfield scored inside and Cedar Ridge added two free throws to make it 51-23 after three.
Cedar Ridge invoked the mercy rule with a basket with 7:44 left to make it 53-23. Zach Maddox hit one of two free throws after two Timberwolves free shots and Matthew Ferguson hit two free throws after a Cedar Ridge three to set the final score at 58-25 Timberwolves.
"They are really really good and you have to play almost perfect to beat them and we were no where close to that tonight," EPC head coach Josh Hill said after the game. "Hopefully we can get things took care of and meet them again in a couple weeks," Hill added.
Pilgrim scored six points to lead EPC in scoring.
EPC will play Junction City in the first round of the Class 2A state playoffs in Hampton on Saturday, March 8 at 3:30 pm.