WWE: Dolph Ziggler
Thursday, March 6, 2014
The World Wrestling Entertainment (WWE) will invade the Convocation Center in Jonesboro on March 9. Dolph Ziggler will be among many of the current WWE superstars appearing in Jonesboro. I had the opportunity to do a phone interview with Ziggler recently. We talked a little wrestling but also talked about his life outside of the ring.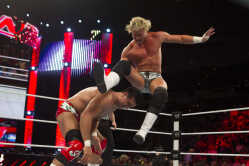 After a stellar high school career at St. Edward High School in Lakewood, Ohio where he set the school record with 82 pins in his career, Ziggler went on to an equally impressive college career at Kent State University. He left with a then record 121 career pins at Kent State. Ziggler made his professional debut in November 2004.
Ziggler said at five-years old he wanted to be a professional wrestler. "My dad took to me an event and I saw Hulk Hogan wrestle Harley Race and I told him that night this is what I wanted to do." Having wrestled since grade school through high school, Ziggler was trained by Rip Rogers and Lance Storm. "Lance Storm was one of my heroes I use to watch on ECW wrestling."
Ziggler said he enjoys wrestling with all the regulars and the upcoming stars of WWE. "Kofi Kingston and I have a good ongoing feud right now. We have been battling for the Inter-Continental and the United State titles the last couple months. We have totally different styles but we somehow compliment each other in ring," Ziggler said. "Growing up I watched Hulk Hogan, the Ultimate Warrior and Rick Flair. Flair had the style, the talk and the talent in the ring. I like the show stealers." Zack Ryder, The Miz and Christian are often travel partners with Ziggler. "We are always throwing ideas off each other trying to make things better."
Wrestling isn't a sport where practice is needed like other sports, but Ziggler said conditioning is a key factor. "I am on a plane for 300 days of the year. I'm usually in the ring five nights a week and a lot of time I'll get in all seven nights to just to do some cardio."
While wrestling solo at this time, Ziggler said he likes a challenge from time to time. "On any given Monday night, you might find yourself in a tag team match. You have to be ready for anything."
In his free time Ziggler enjoys stand up comedy, writing and being active on Twitter. "I try out new material on my Twitter followers and it's a lot of fun. I can bring a witty side to the WWE if needed and that can lead to a television spot out the ring or to a movie part, just more to bring attention to the WWE." Ziggler said he enjoys hockey and football the most but will watch any sport. He's a big fan of the Lake Erie Monsters, a minor league hockey team in his hometown.
"It's surreal to see my images on toys and shirts. It's amazing to know that kids are playing with toys with my image on them and seeing fans of all ages wearing t-shirts with me on them," Ziggler said when asked about the merchandising side of the sport.
My last question was what motivates him to perform on those days when he's not feeling his best. "There are days when you don't feel good, you may be a little banged up or you've had 10 flight delays in the same day. If I was a fan sitting in the audience, I'd be disappointed if a top star didn't wrestle. I want to give the fans a great show so I leave everything that may be bothering me in the dressing room, go out and give the show they want to see and then come back and deal with things that may have had be feeling down."
Dolph Ziggler, love him or hate him, is a true WWE Superstar. I enjoyed my time I got to speak with him and he was a class act.