Winter weather hits county again
Friday, March 7, 2014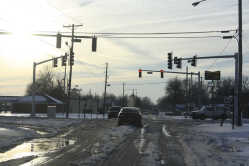 Schools and many offices in Poinsett County shut down Monday after a combination of freezing rain, sleet, ice, and snow Sunday night made travel difficult.
Entergy Arkansas reported it mobilized an expanded workforce of 2,600 to restore power. According to Hugh McDonald, president and chief executive officer of Entergy Arkansas, power outages peaked Monday at 27,600. By 4 p.m. Entergy reduced that number to 15,870. Some of Entergy's hardest hit areas in Poinsett County were Tyronza and rural areas near Marked Tree. A look at Entergy's outage map Monday showed power was down all over Tyronza.
Craighead Electric Cooperative of Jonesboro reported Monday morning approximately 2,300 of their members were without power due to high winds and freezing rain collecting on trees and power lines. According to Brian Duncan, president of Craighead Electric, the outages were scattered throughout eastern and southern Poinsett, eastern Craighead, northern Green and western Crittenden counties with road conditions slowing down repair crews.
By Tuesday, Craighead Electric workers had reduced that number to 600, reporting the remaining outages were scattered through Poinsett and Crittenden counties. Cities with outages as of Tuesday included Lepanto, Trumann, Marked Tree, Payenway, and Harrisburg. Duncan was optimistic power would be restored completely by Wednesday.