Pastor recognized for community service
Sunday, March 9, 2014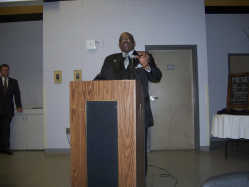 After hardwork and dedication to the Trumann community, Rev. John Booker was awarded the Community Service Award for the year by the Trumann Chamber of Commerce.
Booker is the pastor of Old Landmark Worship Center in Trumann. He grew up in Marked Tree, where he held an assistant pastor job for some time. Two years ago, he became pastor at the Trumann church with a vision to help those in need.
His service to the community began on a cold Wednesday night after a church service, when he noticed a child playing outside with no jacket. This sparked his first community service project idea--a coat drive. Since then, he has started several projects including coat drives, shoe drives, back to school parties providing school supplies, an After School Enrichment program, and much more.
"I want these children to know that they can always do better, and they can be somebody," Booker said.
From his own childhood experience, the pastor said he has a heart for children who are without parents or only being raised by a single-parent household. On average, 80 to 150 children come after school on a daily basis to the Old Landmark church for the After School Enrichment Program. Through the program, children, ages 6 through 18, are fed and encouraged.
"These kids are the future of our community, and we need to instill the right values in them," he said.
Booker has plans to renovate a new facility to be named "The Ark" for his After School Enrichment program. He hopes to provide snacks, activities, Bible and life skill lessons, homework help, and much more.
"In the Bible, the Ark was a place of security, and I want our program to be a place of security for all children in need," Booker said.
All funding for the service projects is provided by the church. Although the church is not a big church, Booker said God is in the midst of what they are doing. His plans are to continue what the church is doing and grow each year. He eventually hopes to expand the program to his hometown, Marked Tree.
"By the Grace of God, it's all coming together," he said.
For anyone wanting to get involved by volunteering or donating, Old Landmark Worship Center is located at 231 Church Street in Trumann.