Marked Tree Rotary auction raises money for projects
Monday, March 10, 2014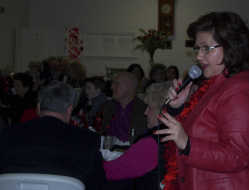 The annual Marked Tree Rotary Banquet and auction on Feb. 27 brought in $3,900 to be used for projects to help the community.
Rotary President Zach Hatley said the club plans to focus on community-oriented grassroots projects such as helping the less fortunate with water bills and providing fans in the summer. "We'll being doing small things that have a big impact," Hatley said.
In addition to getting lights for the Marked Tree sign, the club has a Rotary scholarship coming up and does a yearly Peggy Bankston Walk during the Cotton Pickin' Jubilee with proceeds going to the Susan G. Komen Breast Cancer Foundation.
Hatley said he wanted to thank all those who helped make the Rotary auction a success. Anyone interested in being a guest speaker for the Marked Tree Rotary or who knows of a project the Rotary Club can help with is encouraged to contact Hatley at zacharyhatley@yahoo.com.