Auda Bell Moon
Wednesday, March 12, 2014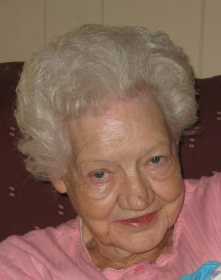 TRUMANN - Mrs. Auda Bell Moon 82, of Trumann died March 7, 2014 at South Wind Heights in Jonesboro. Mrs. Moon was born in Lake City and had lived most of her lifetime in the Trumann and Bay area. She was a former employee of the Singer Company and of the Baptist faith. Mrs. Moon was preceded in death by her husband, James Edward Moon, two sisters, two brothers and her parents, Roger Fred and Julia Osborn Furnish.
Survivors include three sons, James Dennis (Debbie) Moon of Allen, Tex., Roger Moon of Trumann and H. Gregory Moon of Palm Springs, Calif.; one daughter, Kathie (Ken) Waymon of Jonesboro; two sisters, Kathleen Walker of Rockford, Ill., and Hazel Moon of Trumann; one brother, Gary Furnish of Jonesboro and nine grandchildren and eight great-grandchildren.
Funeral services were March 11 in the chapel of Thompson Funeral Home in Trumann, with Rev. Tyler Bailey officiating. Burial followed in the Nettleton Cemetery in Jonesboro.
Pallbearers were Bobby Lowery, Keith Rost, Ronnie Taylor, Pete Porterfield, Tommy Coin, Randy Coin, Gaylon Muse and Keith McElyea.
An online register book can be signed at www.thompsonfuneralhome.net