Lady Indians rally past Foreman in Class 2A State Tournament
Thursday, March 13, 2014
Marked Tree found itself in a big hole in the early going of Saturdays first round Class 2A State Tournament matchup against Foreman. The Lady Indians fell behind 20-4 in the opening quarter before going on a 20-0 run that sparked a come-from-behind 58-51 win over the Lady Gators at Hampton High School.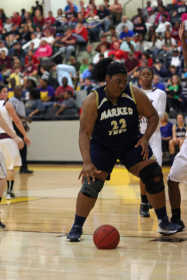 Foreman got off to a fast start behind the one-two scoring punch of Sam Henderson and Kiara Schoals, who combined for 15 first quarter points as the Lady Gators threatened to blow the game open. Trailing by 16, Marked Tree began its comeback by scoring the last four points of the first period to slice their deficit to 20-8 at the end of the first break.
While Foreman went cold from the field, the Lady Indians were just heating up, especially senior point guard Jay Perry, who led Marked Trees surge with 20 first half points, including 13 in the second quarter alone. Three free throws and a Jay Perry lay-up off a full-court pass from Lexi Perry sliced the Gator lead to five with 5:33 left in the half. Kambria Marshalls three point play cut into the Foreman lead even more, and when Jay Perry scored on a nifty scoop shot, the Lady Indians had knotted things up 20-all at the 4:23 mark. Marked Tree would take the lead for good, 22-20, on a Lexi Perry basket in the lane with 4:01 to go before intermission. Jay Perry completed the amazing turnaround with another lay-up via an assist from Lexi Perry for a 24-20 edge at the 3:38 mark. Foreman broke the Lady Indian scoring spurt on a five-foot jumper by Chelsea Stephens, but the Lady Indians closed out the quarter outscoring Foreman 6-2 to lead 30-26 at intermission.
Marked Tree continued to build on its lead in the third quarter. The Lady Indians worked the ball inside to Lexi Perry, who scored on three straight possessions. A couple of long passes from Lexi to Jay Perry accounted for two more buckets, and after another Jay Perry basket, the lead ballooned to 44-30 with 3:48 left in the third period. The two teams traded baskets before Kiara Schoals scored five consecutive points to slice the Lady Indian lead to 46-37. Dezeree Reel answered for Marked Tree before a 10-foot jumper by Kaitlin Smith left the Lady Gators down 48-39 after three stanzas.
Marked Tree pushed its lead back to 13 midway through the final frame, thanks to a five-foot floater by Reel and a streaking lay-in by Jay Perry. Foreman put together one last charge, scoring nine straight points to pull to within 55-51 with 1:18 left in the game. Henderson started the run with a long three pointer, followed by a pair of Kiara Schoals buckets. Monica Schoals came away with a steal and a lay-up to complete the Lady Gator run. Marked Tree gave Foreman life in the last minute by missing three of six free throws, but the Lady Gators were unable to capitalize offensively, and when Jay Perry hit both ends of the one and one with 16 seconds left, the Lady Indians were able to celebrate.
When we got down early I was thinking to myself, dont panic, said Marked Tree Coach Derik Drewett. I knew if I panicked, they might, and there would be chaos. The girls kept their composure and fought back, which was huge. It got us back in the ball game and they stuck with it defensively for the rest of the game. You could tell that defensive stretch kind of wore us down and we didnt take care of the ball and kind of panicked when they pressed us. We played into their speed toward the end, but things turned out good for us. I didnt think Foreman had an answer for Lexi and Jay today. I also thought Dez Reel played a great game. She may have had as many rebounds as Lexi. She hit some big baskets and made a big free throw late. I was very pleased with her play today, said Drewitt.
Jay Perry pumped in a game high 33 points to top the Lady Indians scoring attack. Lexi Perry pitched in 11. Reel tallied nine, Marshall scored three while Tullia Tull chipped in two points. Marked Tree connected on 14-22 free throw attempts.
Kiara Schoals led the Lady Gators with 20 points while Henderson pitched in 16 more. Foreman made just two of eight charity tosses while draining three treys.
The Lady Indians were defeated in the Class 2A State Tournament semifinals Monday, falling to Mountainburg, 62-47.