WWE invades Jonesboro
Thursday, March 13, 2014
The WWE superstars invaded the Convocation Center in Jonesboro this past Sunday for an evening full of wrestling. John Cena, Randy Orton, Dolph Ziggler were just a few who were there. Here are the results.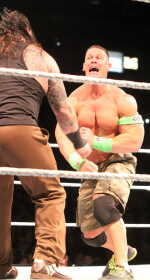 Kofi Kingston and Damien Sandow opened the night. Kingston got the pin fall with cover after a round house kick to Sandow's head. The Los Matadores with El Torito faced WWE NXT champions The Ascension. The Los Matadores lost by pin fall. The Miz and Justin Gabriel were up next with The Miz picking up the win on a pin fall.
Daniel Bryan got the cover on Kane and the Usos won the three team triple threat match over Goldust and Cody Rhodes and Curtis Axel and Ryback.
AJ Lee, Divas champion, retained her belt with a win over Cameron in a match voted on by the fans. Ziggler won a hard fought match against Alberto Del Rio.
The main event featured Cena and Batista versus Bray Wyatt along with WWE and World Champion Randy Orton. Cena got the pin fall even after Bautista turned on him.