Lady Wildcats win season opener
Thursday, March 13, 2014
Trumann (1-0) used a 10 run third inning to post a 16-1 win over Bay (0-1) in girls' high school softball action this past Monday in Trumann.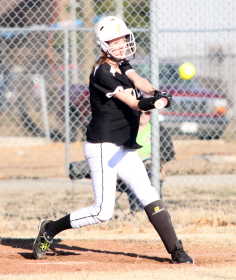 Bay got out to the early lead with a run in the top of the first inning. Emily Rush walked, stole second, advanced to third on a passed ball before scoring on a wild pitch. Trumann got runners on second and third but couldn't push one across as the score was 1-0 Lady 'Jackets after one.
Bay went three up three down in the top of the second. Trumann sent 11 batters to the plate in the bottom scoring six runs to make it 6-1 Lady 'Cats. Kierra Corter led off with a walk before stealing second base. Jasmine Poole grounded out with Corter going to third. Chelsea Baine also grounded out with Corter scoring Trumann's first run. Haven Taylor, MaKayla Hicks and Megan McGowan all drew walks to load the bases with two outs. Taelor Gartman reached on a Bay error that allowed Taylor and Hicks to score. Hannah Wood walked to reload the bases before Neely Blagg was hit by a pitch to score Hollie Russell who was pinch running for McGowan. Corter reached on an error that scored Gartman and Wood to make it 6-1 Trumann after two innings of play.
Bay threatened in the top of the third as Molly Parrish drew a one out walk and stole second to get in scoring position. Parrish advanced to third as Rush reached on an error putting runners on second and third. Katie Ferguson's liner was caught by Blagg at first who then threw to third to catching Parrish to far off the bag for a double play to end Bay's threat. Trumann had another big inning sending 14 batters to the plate where they scored 10 runs to end the game. Taylor singled and Hicks walked before Taylor scored on McGowan's hit to make it 7-1 Trumann. Gartman followed with a gapper as she rounded the bases for a home run scoring Hicks and McGowan ahead of her for a 10-1 Trumann lead. Wood reached on an error before being forced at second on Blagg's grounder. Blagg came around to score on a triple by Corter and Corter scored with Poole reached on an error. Baine and Taylor drew walks to load the bases. Poole scored when Hicks was hit by a pitch to make the score 13-1 Lady Wildcats. McGowan plated Baine and Taylor with a double to make it 15-1. Gartman singled in Russell to make it 16-1 ending the game.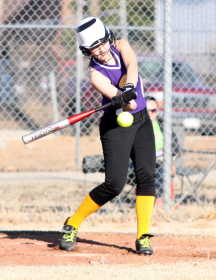 McGowan struck out seven and walked two in throwing a three inning no-hitter.
Gartman was big at the plate for Trumann with two hits, two runs and four RBI. McGowan added two hits, a run and three RBI, Corter finished with a hit, two runs, a RBI and a stolen base and Blagg added an RBI. Taylor scored three runs, Hicks scored twice and stole a base while Heather Wood, Russell, Hannah Wood, Poole and Baine each scored a run.