Officers honored with life saving award
Tuesday, March 18, 2014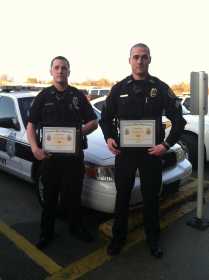 Trumann officers Chad Mason and Logan Thomas were recently honored with a Life Saving Award from Police Chief Chad Henson and the Trumann Police Department after putting their lives on the line during a recent house fire. The two men received the award at the Trumann City Council meeting on Tuesday, March 11.
"It is hard to be a police officer," Henson said. "When these officers get up in the morning, they do not know what that day holds for them."
Last week, Mason and Thomas were called to a house fire on Wayne Street in Trumann. After the residents evacuated the home, Henson said the Trumann Fire Department found a large amount of oxygen inside. Before the fire and oxygen reacted, the fire department and officers were able to evacuate the home, as well.
According to Henson, soon after evacuation and the explosion from the fire, the female resident of the home went into cardiac arrest while at a neighboring house. Thomas and Mason quickly responded and performed CPR until Trumann EMS arrived.
"One minute these officers were dealing with a fire, and the next they were doing everything they could to save a woman's life," Henson said.
Henson commended the Trumann Fire Department and Trumann EMS for their work with the fire, as well.
At the council meeting, Henson also introduced Charles Jones and Missy Duran as officers recently added to the Trumann Police Department. Henson said Jones has been a great asset to the department with a background in technology, fire, and EMS. He also said Duran was a great asset with a strong police background in several areas.