Lepanto has a new millionaire
Friday, March 21, 2014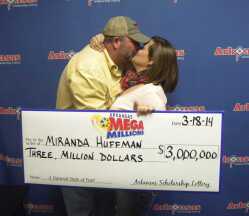 Miranda Huffman and her husband, Jeff, walked into the Arkansas Lottery Commission offices on Tuesday and walked out $3,000,000 richer. The Mega Millions prize is the second-largest winning ticket in the Arkansas Scholarship Lottery's history.
Miranda Huffman matched all five white balls but missed the Megaball in the March 14 drawing by playing 7, 20, 40, 54 and 69.The megaball number was 12.
That combination pays out a $1 million prize, but Huffman also bought -- for $1 extra -- the Megaplier. It turned out to be a good investment in Huffman's case because it increased her winnings threefold to $3 million. Mega Millions is played in 43 states plus the District of Columbia and the U.S. Virgin Islands. Five winners picked five numbers in the March 14 drawing. Huffman was one of three nationally who bought the Megaplier.
"Mrs. Huffman said it was the first Mega Millions ticket she had ever bought for herself," the lottery said in a statement. "The first person she told was her father and she plans to use the money to build a house."
Huffman bought the ticket at Jordan's Kwik Stop 14 on Arkansas 135 North in Lepanto.
Attempts to reach the family were unsuccessful.
No one won the jackpot in the March 14 drawing, raising Tuesday night's jackpot to $400 million. Two people won the March 18 drawing.