Groundbreaking held for memorial park in Trumann
Saturday, March 22, 2014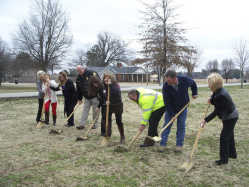 After the passing of Trumann Fire Chief Rick Winkles, David Woods, a lifelong Trumann resident and retired police officer, had an idea for a memorial park. Woods put together a committee with an officer, firefighter, and two other community members with the goal of getting a Fallen Heroes Memorial Park built at the Trumann Sports Complex to honor police, EMS, and firemen in Trumann who died in the line of duty.
Initially, the park will have memorials for Larry Blagg, Jonathan Schmidt, Rick Winkles, and Bill Rose, an Arkansas State Trooper who died in Trumann in 1982.
"So much has happened to Trumann in the past few years. This needed to be done," Woods said. "It was only fitting after the service they performed for Trumann to have a memorial in their honor."
During a groundbreaking ceremony Tuesday, Woods announced the committee had already raised $17,000 of their $40,000 goal. "The support has been phenomenal. Our facebook page got 600 followers in the first week. This will be a project everybody can be part of and will be proud of," Woods said.
Woods worked in law enforcement for 25 years, and said in that time he had seen a lot of fallen officers. "A funeral is not enough. When there's a funeral, you see 75 police cars and firetrucks, but it's over in one day. This is permanent. People will remember," Woods said.
Accounts have been set up at Unico Bank and Southern Bancorp for people to donate to the Fallen Heroes Memorial Park fund. Woods said he felt confident the goal would be reached quickly and plans for construction of the park to start next week.
Board members for the Fallen Heroes Memorial Park include David Woods, chairman; Earnie Link, vice chairman; Janna Stotts, treasurer; Neal Vickers, board member; and Lenny Becker, board member.