Hornets win big over Trumann
Tuesday, March 25, 2014
What looked like it was going to be a pitchers duel turned into a blowout as the Harrisburg Hornets used a nine run fourth inning on their way to a 11-1 win over the Trumann Wildcats in Harrisburg last Thursday.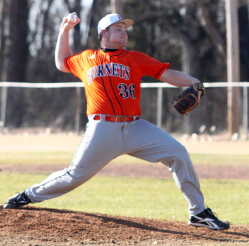 Harrisburg's Arizona Sharp and Trumann's Kevonte Andrews both were in control for the first three innings of the game with their defenses playing well behind them. Neither team really threatened to score those first three innings.
The Hornets finally got to Andrews sending 13 men to the plate in the bottom of the fourth scoring nine runs. Brett Horsley reached on an error and Nathan Neal walked to put runners on first and second. Cade Condra knocked in Horsley with a single and Neal scored when Jake Chatman reached on a Wildcat error. Brayden Honeycutt singled to score Condra and Matt Walton followed with a single to score Chatman making it 7-0 Harrisburg. Sharp was hit by a pitch scoring Honeycutt and Horsley doubled in his second at bat in the inning driving in Walton and Chatman making it 9-0 Hornets.
Trumann got a one out hit from Dylan Qualls in the top of the fifth before Walton, Honeycutt and Horsley turned a 6-4-3 double-play. Harrisburg looked as if they might add to their lead as Honeycutt reached on error before stealing second the open the Hornets half of the inning. Chatman was hit by a pitch putting runners on first and second. Trumann's defense came up big as pitcher Bradley McAnnally fielded a grounder and threw to Caleb Hannon who threw to Cain White for the 1-4-3 double play to end the fifth inning.
Hannon doubled to start off the top of the sixth for the Wildcats. Sharp struck out the next two batters before White singled putting runners on first and third. Wilson reached on an error the allowed Hannon to score making it 9-1. Sharp and Horsley started the bottom of sixth with back to back singles. Neal reached on an error that scored courtesy runner Tyler Cronin to make it 10-1. Condra hit a grounder that scored Horsley on a close play at the plate making it 11-1 ending the game via the run rule.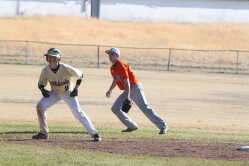 Sharp picked up the win for Harrisburg pitching all six innings giving up one run on three hits. Sharp didn't issue any walks and struck out six.
Horsley had a big day at the plate with two hit, three runs and two RBIs. Walton had two hits, scored a run with two RBIs and Condra added two RBIs for the Hornets.
Andrews took the loss for Trumann giving up nine runs on seven hits while walking two, striking out three and hitting a batter. McAnnally pitched two innings in relief allowing two runs on two hits.
Trey Moody, White, Lucas Moye, Qualls and Hannon all had a hit for the Wildcats. Hannon scored Trumann's only run.