Sharp throws no-hitter against Mohawks
Thursday, March 27, 2014
Arizona Sharp baffled the Piggott batters and thrilled the Hornet fans by tossing a no-hitter this past Friday in high school baseball action in Harrisburg. Sharp walked two and struck out 10 in the 7-0 win.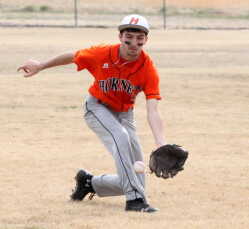 Harrisburg gave Sharp all the runs he'd need in the bottom of the first inning. Sharp got three up and three down in the top of the first. Matt Walton singled to start the bottom of the first for the Hornets. Walton stole second and went to third when Drew Price reached on an error. Ayson Lamb's fielder's choice scored Walton to make it 1-0 Harrisburg. Sharp helped his own cause with a RBI single the scored Price. Alec Witt drove in courtesy runner Connor Haag to make it 3-0 Hornets after one. Sharp allowed a two-out walk in the bottom of the second before striking out the next batter. Jake Chatman got to third for the Hornets in the bottom of the second but was left stranded to keep it at 3-0 Hornets.
Piggott went three up three down in the top of the third as Sharp just cruised along. Harrisburg added a run in the bottom of third to make it 4-0. Brett Horsley drew a two-out walk and went to third on a single by Witt and scored on a single by Brayden Honeycutt. Piggott went three up and three down in the top of the fourth and Harrisburg stranded a lone base runner in the bottom half of the inning.
Sharp gave up a one-out walk and it looked for minute like it might hurt him. Piggott sacrifice bunted him to second before Sharp struck out the next batter to end the threat. Sharp stayed hot at the plate with a single to lead off the bottom of the fifth. A fielder's choice ground out by Horsley and a single by Witt plus a Piggott error put runners on second and third for the Hornets. Honeycutt reached on an error that allowed Haag and Witt to score making it 6-0 Harrisburg after five innings. Sharp retired the side in order in the top of the sixth before the Hornets added their final run in the bottom half. Price was hit by a pitch to start the inning. Lamb's ground out moved Haag to second before Haag stole third base. Haag scored when the catcher's toss back to his pitcher went over his head to make it 7-0.
Sharp retired the side in order in the top of the seventh for his first career no-hitter.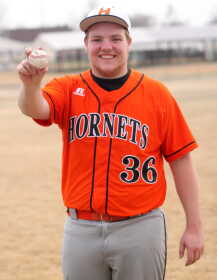 "It feels good," were Sharp's first words his feat. "My defense played good behind me today..the outfield was incredible," Sharp added.
Sharp and Witt both had three hits on the day for Harrisburg. Haag scored three runs as Lamb, Sharp, Witt and Honeycutt each had a RBI.