Lady Wildcats cruise past Bay
Thursday, March 27, 2014
On a chilly and windy afternoon, Bay's pitchers had trouble finding the strike zone and Trumann took advantage of the situation to post a 20-2 win over the Lady Yellowjackets this past Monday at Bay.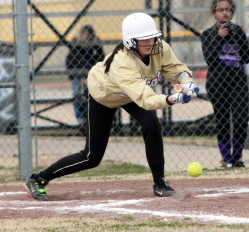 The Lady Wildcats send 22 batters to the plate in the top of the first inning scoring 16 runs. Megan McGowan had a RBI single in the inning, Neely Blagg drove in two runs with a hit and Hannah Wood plated a run with a hit too. McGowan struck out the side in Bay's first at bat of the game.
Trumann tacked on two more runs in the top half of the second inning. Bay threatened to get on the board in the bottom half of inning as Courtney Rodgers got a two-out base hit. Rodgers advanced to second on a walk to Brianna Riga before going to third on a passed ball. McGowan struck out the next batter to end the inning leaving the score 18-0 Trumann.
Trumann added two more runs in their half of the third inning. Makayla Hicks had an RBI single in the inning for the Lady Wildcats as they extended their lead to 20-0. Bay plated two runs in the bottom of third as Emily Rush walked and stole second with one out before scoring on a Trumann error to make it 20-1. Jessie Martin reached on an, moved to second on a walk and on to third on a passed ball. Martin scored when Brittany Roedel grounded out to make the score 20-2. McGowan struck out Raven Francomano to end the game.
McGowan got the win for Trumann pitching three innings giving up two runs on one hit. McGowan walked three and struck out eight on the day.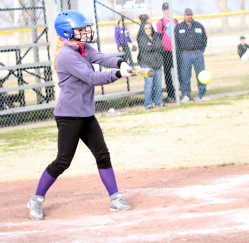 McGowan, Wood, Blagg and Hicks all had a hit for Trumann. Blagg and Hicks each had two RBIs. Kierra Corter scored three runs as Hicks and Rethea Goza each scored two runs.
Katie Ferguson was tagged with the loss for Bay. Rodgers had Bay's lone hit as Rush and Martin each scored a run.