McCrary, Malone lead MT over Bobcats
Thursday, March 27, 2014
Brody McCrary overcame a slow start on the mound to record 10 strikeouts and Hunter Malone drove in four runs as the Marked Tree Indians downed Corning 7-3 in high school baseball action in Marked Tree this past Tuesday.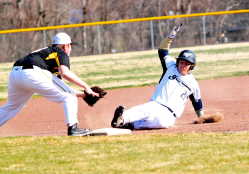 The Bobcats scored two runs in the top of the first as they capitalized on a hit batsman and an error to go up 2-0. The Indians responded with three runs in their half of the inning. Bailey Gilbert was hit by a pitch and McCrary walked to put runners on first and second. Blake Daniels' ground out moved both runners up a base. Gilbert scored when the ball got past the catcher and McCrary scored as Dylan Hunt reached on an error to make it 2-2. Hunt was gunned down trying to make it to third base on a double by Hunter Pitts. Pitts scored on a double by Hunter Malone to make it 3-2 Marked Tree.
Corning tied the game up at 3-3 with a run in the top half of the second inning. The Indians got a runner to third but could not get him in to keep the score 3-3 after two innings. McCrary retired Corning in order in the third before Marked Tree took the lead for good in the bottom half. Pitts reached on a Corning error and came around to score on a RBI double from Malone making it 4-3 Indians.
Marked Tree added another run in the bottom of the fourth to make the score 5-3. McCrary led off with a double and scored on a single by Daniels. Malone drew a two-out walk to put runners on first and second before Daniel Rucker struck out to end the inning. Neither team did much in the fifth inning as the score stayed 5-3 Indians.
Hunt singled with one-out in the bottom of sixth. Pitts was hit by a pitch next up putting runners on first and second. The runners advanced on a wild pitch and both scored on a Malone's single, his third hit of the game, to make it 7-3 headed to the last inning. McCrary struck out the side in order in the top of the seventh to finish the game.
McCrary picked up the win giving up three runs on five hits while walking one, striking out 10 and hitting two batters.
Malone led the Indians at the plate with three hits (two doubles) and four RBIs. Daniels had a hit and a RBI as Pitts had a hit and scored three runs. McCrary added two runs on the day.