Last Ride
Tuesday, April 1, 2014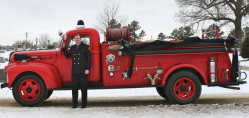 Twelve firefighters have taken their "Last Ride" in a historic 1946 fire truck, thanks to the generosity of Jerald Burns, of Palestine.
"I have been contacted through the years by families of firemen wishing to have the bodies of firemen transported to cemeteries in my old fire truck," Burns said. "It has come to mean a lot to families who are trying to fulfill the wishes of their loved ones, who have spent a lifetime serving their communities as firemen. I feel that it is something I can do to show my respects for these men, who have given us so much."
Burns, a volunteer fireman himself, is an antique car and truck collector and restorer, and obtained the 1946 Ford fire truck from the City of Heber Springs, several years ago. He completely restored it, from top to bottom, and gave it a bright red paint finish. During funeral services the truck is draped with long black mourning cloths, gathered along the sides of the truck and tied with black ribbons. The casket of the deceased is placed in the bed of the truck by funeral pallbearers and secured for transport to the cemetery.
He has driven the truck in many parades and celebrations, through the years, often called upon to transport Santa Clause and Mrs. Clause. The first funeral transport he provided was for five-year-old cancer victim Bryan Delancey, of Forrest City.
"Bryan wanted to be a fireman when he grew up," Burns said. "He never got the chance to do that. He loved to ride in my fire truck and did so every chance he got. I thought it would only be appropriate to offer to transport his body for the last time in this truck."
The twelve firemen that Burns provided a "Last Ride" included: James Thomas, of Colt Fire Department; Winnifred Davenport, of East Monroe Fire Department, near Brinkley; Al Pierce, of Harrisburg Fire Department; Don Crouch, of Harrisburg Fire Department; Walter E. Pete Franklin, of Wynne Fire Department; Justin Ray Mauldin, of Hickory Ridge Fire Department; Jim Haynes, of Brinkley Fire Department; Don Baldwin, of Wynne Fire Department; Justin Aunschultz, of Weiner Fire Department; Assistant Chief Hubert Joyner, of Crenshaw, MS Fire Department; Chief Rick Winkles, of Trumann Fire Department; and Chief Burt Lee, of Lafe Fire Department.
Not only does Burns have a deep respect for firemen, but he also has a deep affection for old vehicles. His 1953 Buick car and 1949 Ford truck were featured in several scenes of John Grisham's Painted House, filmed on location in Lepanto. He has been responsible for many vehicles while filmmakers are on location, while filming in Arkansas and Tennessee.
"I enjoy working on old vehicles, and understand them much better than these newer ones," Burns said. "I also have a fascination with vintage airplanes. As a former crop-duster I owned and flew my Citabria plane up until 2 years ago. My family has been supportive of my collection and restoration endeavors and has come to like the vehicles themselves."
Jerald Burns and his wife Mary Ann, and son Alan Burns live in Palestine, and daughter Wendy Kittler lives in England. He has three grandchildren. His son-in-law Brian Kittler is also a volunteer fireman at Caldwell.
Burns wears his Masonic apron while transporting the firemen to their final resting place. He has been a member of the Masonic Lodge for 39 years. He
"Service as a mason and as a provider of "Last Rides" is one of my way of serving others," Burns said. "I don't charge anyone for providing my truck for the services. Just them telling me how much it meant to them and the family is enough pay for me. I have found that there are more ways to invest my money than by putting it in the bank, and I see this service as a great investment in the lives of people."
When asked if he wants his body transported to the cemetery in his 1946 fire truck, Burns is quick to say "No."
"My parents (Abe and Elizabeth Burns) brought me home from the hospital in their new 1949 Ford truck, so that was my first ride," Burns said. "I want to take my "Last Ride" in the back of that same old truck."