Lester teaching kids to make art from junk
Wednesday, April 2, 2014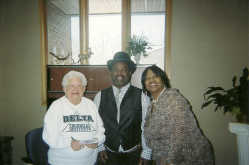 Barrick Lester is a teacher, a preacher, and a poet. A Marked Tree native, Lester learned to paint at Arkansas State University. From there he opened a business, VS Arts and Crafts, in Marked Tree in 1990 and began preaching in 1998. He's also a writer, poet, and rapper with a self published book of poems out called "Jesus Is Not Just a Man."
Now he wants to teach kids how to turn their hobbies into dollars.
"I'm a big brother," Lester said. "I've been a big brother since I was 13. I've never met a kid I didn't love, and I've never met one who was too tough."
Lester said he approached Bill Craft, who runs Youth Outreach Ministries, two years ago about teaching the kids to build picnic tables. Lester's father was a carpenter, and Lester credits him with teaching him how to use a hammer.
"I told Bill Craft, 'You feed them and teach them the word of God. I'll teach them something that can't be taken away,'" Lester said. He started Kids Corner next door to Youth Outreach Ministries and taught kids how to build picnic tables and how to make arts crafts from found items, such as painting benches people had thrown out.
Lester said he was teaching kids to use their artistic talent to take discarded objects, items bought at yard sales, or even things found in nature like rocks and sticks, and turn these items into works of art they can sell. He even hopes to take Hobbies to Dollars to the internet to help maximize exposure and to do classes over the phone teaching kids how to be smart with money. "If we work hard but don't invest, we get in trouble," Lester said, something he said learned from the Parable of Talents in the Book of Matthew.
"God gives me all these ideas," Lester said. "And the ideas never run out."