Carlene Wilson
Thursday, April 3, 2014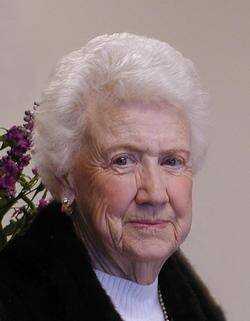 TRUMANN - Ethel Carlene Wilson, age 86, of Trumann died Tuesday, March 25, 2014, at Flo and Phil Jones Hospice House in Jonesboro. She was born April 11, 1927, in Dell, Arkansas, the daughter of the late Carl and Mabel Walker Wallace. Carlene was a member of the First Presbyterian Church. She was a devoted wife, mother and grandmother who found enjoyment in helping others.
Carlene married Judge Henry Wilson on October 1, 1943. Henry preceded her in death in 2010. She was preceded in death also by a brother, Dan Wallace and a grandson Albert Durham.
Survivors include daughter, Myra Jane Biggers of Jonesboro; grandson Tony (Susan) Durham of Biloxi, Miss.; granddaughter, Sallie (Nick) Zazal of Fayetteville; great-granddaughter Anya Grace Zazal of Fayetteville; great-grandson Chris Belden of Biloxi; nephew, Mike (Pat) Wallace of Marion; niece Holly (Michael) Branchick of Michigan; and nephew Russ Wallace of California.
Arrangements for cremation and burial in Elmwood Cemetery in Blytheville are being provided by Thompson Funeral Home in Trumann. A private memorial service celebrating Carlene's life will be held by her family at a later date.
For those wishing to leave a lasting memorial, please consider the Flo and Phil Jones Hospice House, 1148 E. Matthews Ave., Jonesboro, AR 72401; First Presbyterian Church, 710 Southwest Drive, Jonesboro, AR 72401; or other charity of your choosing.
An online guest book can be signed at www.thompsonfuneralhome.net.