1930 graduate reminisces
Monday, April 7, 2014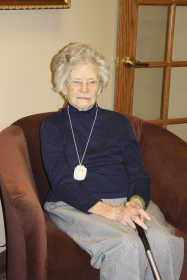 In 1930, Trumann had 10 students graduate in the district's second graduating class ever. Over 80 years later, Murlee Davenport (Futrell), 101, remembers what it was like to go be a part of that 1930 Class.
"'You'll go to school, but if you learn is up to you.' That was my father's motto," Davenport said.
She moved to Trumann from Jonesboro in the 6th grade with family that farmed. Her sister, Wilma Davenport, was a part of the first 1929 graduating class of Trumann High School.
In the middle of her senior year at Trumann, Davenport said her father, "Buck" Futrell, moved his family back to Jonesboro. Davenport wanted to finish out her senior year at Trumann, so she stayed with friends to finish up the year.
At the time, Davenport remembers many aspects of the town centered around the Singer company, as it was the major sustaining industry in the town. She said without the company, there would not have been a high school.
Davenport said she graduated as salutatorian of her class, with a love for math. She attended Arkansas State University, where she met her husband, whom she was married to for over 70 years.
After decades later, Davenport still stands by her father's motto of the importance of school. She still remembers her days at Trumann High School and her years spent in the town, and she said it was an enjoyable time.