Pig roast raises money for Miracle League field
Tuesday, April 8, 2014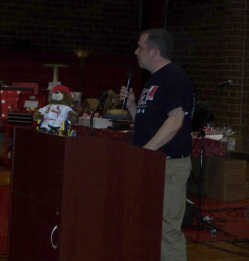 Sharon Turman has been working on raising money to fund a Miracle League field in Jonesboro for three years now. Last Saturday, Poinsett County held fundraiser for the field, the Weiner Pig Roast, an event that was originally the idea of State Rep. Rick Crawford a couple years ago. Hundreds packed the Weiner High School Gym for a night barbecue, music provided by Twister Alley, and a live and silent auction.
A Miracle League field is a baseball field with a rubberized surface to allow children with walkers and wheelchairs to play baseball and softball in a safe environment. Turman, who coordinated the Jonesboro softball program, said the field started as a $1.2 million project, but as she traveled around the country looking at other Miracle League fields, the project has changed and grown into a $2.8 million project.
She said the field will be larger than a regular baseball field so space in the outfield can be used to accomodate other sports such as flag football, kickball, and wheelchair soccer. In addition to hosting baseball and softball games for disabled children, the field will be used by the nearby Jonesboro Human Development Center for physical education, a special needs kickball team, and the special olympics.
"We want to bring in all of this region to use this field," Turman said, noting some local families with disabled children travel up to four hours to find a field they can play on. The field will also include a playground next to it with specially designed equipment so any child, disabled or not, will be able to access and use every piece of equipment. The field will also have a quiet room for autistic children.
Turman said the field, at 36,000 square feet, will be the largest Miracle League field in the United States and several countries.
"This is just a dream of mine," Turman said. "This project is not Sharon Turman. This project is for these kids, all of them."
Turman said they only needed $800,000 to meet the goal for the project. During the Pig Roast, Weiner Elementary students donated a check for $1,200 while the event itself raised $20,637. A grand opening for the Miracle League field is planned for Sept. 13.
Anyone wishing to donate may call Turman at 870-882-5430 or Jonesboro City Hall at 870-932-1052.