Late runs help push Lady Indians by EPC
Friday, April 4, 2014
Marked Tree (2-2) scored three runs in the bottom of the fifth to break a 4-4 tie with EPC (4-4) and Madison Carroll retired the side in order the next two innings as the Lady Indians posted a 7-4 win in high school softball this past Monday in Marked Tree.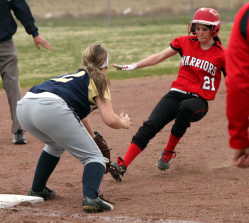 EPC got on scoreboard first when Kaylan Wilson singled and took second base when the outfielder bobbled the ball. Stacey Mott plated Wilson with a two-out single making it 1-0. Jay Perry bunted for a single to give Marked Tree their first base runner in the bottom half of the inning. Perry went to second on a wild pitch before Kelsey Pitts drew a walk. Tanna Takcer reached on a fielder's choice to load the bases. Breanna Francis reached on another fielder's choice to score Perry and tie the game at 1-1. Carroll singled to score Pitts and Tanna Tacker giving Marked Tree a 3-1 lead. Madison Gilbert drove in Francis with a sacrifice fly to make it 4-1 Marked Tree after one inning.
The teams were quite in the second and third innings before the Lady Warriors tied the game in the top of the fourth inning. Amelia Worsham singled to open the inning for EPC and went to second on a passed ball. A throwing error on Alyson Phillips' bunt scored Worsham and sent Phillips to second. Becca Bishop singled to score Phillips to make it a 4-4 game.
Marked Tree plated three runs in the bottom of the fifth to take a 7-4 lead. Pitts tripled to start the inning and scored on a single by Hanna Tacker making it 5-4 Marked Tree. Francis reached on an error to put runners on first and second. Carroll singled to load the bases before Hanna Tacker scored on a bases loaded walk by Kayli Walker to make the score 6-4. Carroll scored on a wild pitch to make it 7-4 Marked Tree after five innings of play.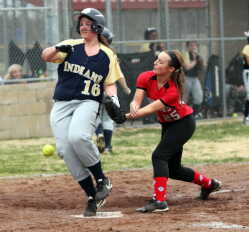 Neither team's offense could generate anything over the final two innings of the game.
Carroll took the win for Marked Tree giving up four runs on give hits. She walked one and struck out four.
Carroll also collected two hits, scored a run and drove in two at the plate. Pitts and Hanna Tacker each had two hits as Walker, Francis and Hanna Tacker each had a RBI.
Wilson took the loss for EPC as she gave up seven runs on six hits while walking five and striking out three.
Mott finished with two hits and a RBI for the Lady Warriors with Sarah Tacker and Bishop each having a RBI.