Lady Hornets outlast Armorel in thriller
Friday, April 4, 2014
Harrisburg (4-3) withstood a late rally from Armorel to post a 5-4 win in high school girls' softball action this past Tuesday in Harrisburg.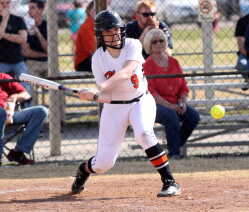 Harrisburg jumped out a 3-0 lead in the bottom of the first inning against the Lady Tigers. Keely Edwards got things started with a single before being moved to second on a sacrifice bunt from Keely Curtis. Somer Carter's single brought in Edwards to make it 1-0. Sidney McMullin reached on an error before Abby Wallace's hit scored Somer Carter and McMullin to make it 3-0 after one inning. Armorel got on the scoreboard in the top of the second inning to make it 3-1.
The Lady Tigers added a run in the top of the third inning to make it 3-2. The Lady Hornets got another run in the bottom of the fifth as Edwards reached on an error and stole second to get in scoring position. Edwards scored on Katie Vincent's single to make it 4-2 Harrisburg after the fifth.
Melanie Jackson doubled to start the Lady Hornets half of the sixth inning and was replaced by courtesy runner Jessica Webb. Webb came around to score on a hit by Starr Carter to make it 5-2 Harrisburg. Things got tense in the top half of the seventh inning with Armorel cutting the lead to 5-4. Catcher Starr Carter got the final out for Harrisburg catching a pop up from the Ar morel batter with runners on first and third.
Jackson got the win for Harrisburg tossing all seven innings allowing four runs on five hits. She walked one and stuck out six.
Edwards had two hits, scored two runs and stole a base to lead the Lady Hornets at the plate. Somer Carter finished with two hits, a run scored and a RBI. Wallace had a hit and two RBIs as McMullin and Webb each scored a run.