Big inning helps Warriors get by Cross County
Thursday, April 10, 2014
EPC scored 10 runs in the bottom of the fourth to break a 4-4 tie before going on to post a 14-4 win over Cross County in high school baseball action last Friday in Lepanto.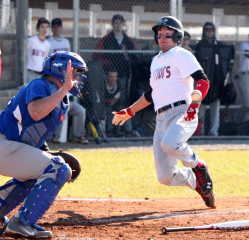 Cross County took advantage of three EPC errors in the top half of the first inning to go up 3-0. The Warriors got a two-out hit from Andy Tacker in the bottom half but left him standing on first. The Thunderbirds threatened to push another run across in the top of the second as the loaded the bases but a fielder's choice ground got the Warriors out of the jam. EPC got a two-out walk from Corbin Truelove who was picked off first to end the inning.
Cross County made it 4-0 with a run in the top half of the fourth inning. The Warriors offense finally got on track in the bottom half of the inning. Kyle Harbin started if off with an infield single before Quinn Young drew a walk. Tacker walked to load the bases. McKenzie Betts plated Harbin and Young with a double and Tacker scored when the outfielder had trouble with the ball to make it 4-3 T-Birds. Betts, who had went to third on the error, scored a wild pitch to tie the game at 4-4 after three innings of play.
Warrior pitcher Hayden Allen induced three consecutive ground outs in the top of fourth to retire Cross County in order. EPC sent 15 batters to the plate in the bottom of the fourth and scored 10 runs to go up 14-4. Truelove reached on an error and went to second when Young was hit by a pitch. Aaron Scaled reached on an error that scored Truelove. Clay Malone walked to re-load the bases before Tacker singled to score Young and Aaron Scales and Betts followed with a hit to scored Malone making it 8-4 EPC. Byron Scales and Chanc Gray drew back to back walks with Gray's walk scoring Tacker. Truelove doubled to drive in Betts and Byron Scales to make it 11-4 Warriors. Gray scored on a passed ball making it 12-4. Harbin and Aaron Scales drew walks loading the bases yet again before Truelove and Harbin scored on errors to make it 14-4 Warriors after four.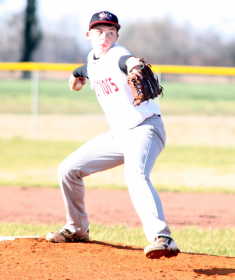 Allen gave up a two-out walk before striking out the next batter to end the game via the run rule.
Allen pitched all five innings to get the win for EPC. He allowed four runs on two hits while walking five and striking out six.
Betts led the Warriors at the plate collecting two hits, scoring two runs with three RBIs. Tacker had two hits, scored two runs and had two RBIs. Truelove scored two runs with two RBIs as Harbin and Young each scored two runs. Byron Scales added two stolen bases for the Warriors.