White squad rolls to big win in Sun Senior Classic
Thursday, April 10, 2014
Four area players scored in double digits to help the White squad down the Blue squad in The Sun Senior Classic held this past Sunday in Jonesboro. The White used a big fourth quarter to blow open a close game and win 91-74.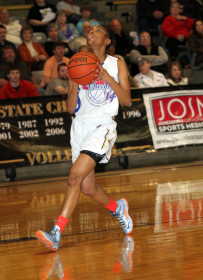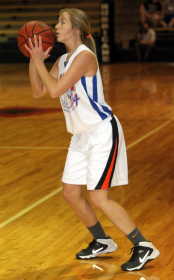 Jay Perry of Marked Tree, Emily Cook and Deven Burrow of Manila, Kaci Mack of Harrisburg and Taylor McKuin of BIC were members of the White. Kendal Gunn of Rector, Kenzley Wilson of Riverside and Kali Bo Conaway of Trumann played for the Blue.
The White squad jumped out to a 23-12 lead over the Blue squad in the opening quarter of the girls' game. Wilson hit a base line jumper and Conaway scored off an offensive rebound for the Blue as in the quarter as Cook hit two free throws and McKuin hit a free throw for the White.
Mack scored six points, Perry and Cook both had five points and Burrow had two points as the White team withstood a strong second quarter from the Blue squad to lead 36-34 at halftime. Wilson scored a basket inside and Gunn hit two free throws for their team in the quarter.
Gunn netted five points and Wilson scored four points in the third period as the Blue team kept the pressure on the White club. McKuin finished the quarter with seven points, Burrow chipped in four points, Perry had two points on an inside basket and Cook hit a free throw for the White team as they led 58-56 after three.
The White squad caught fire on offense and turned up the defense up as they outscored the Blue 33-18 to post a 91-74 win. Perry and Burrow both had eight points, McKuin scored four points, Cook three points and Mack two points for the the White team. Conaway scored four points for he Blue team in the quarter.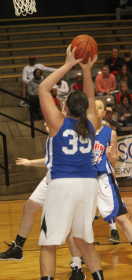 Perry finished with 15 points, Burrow chipped in 14 points, McKuin netted 12 points while Cook had 11 points and Mack scored eight points. Wilson tossed in eight points Gunn had seven points and Conaway added six points.