Updates given at intergovernmental meeting
Monday, April 14, 2014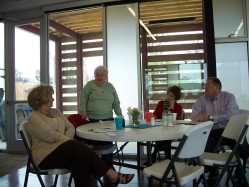 City and county officials met in Tyronza Tuesday for the quarterly Intergovernmental Council meeting to update each other on Poinsett County cities and discuss common issues.
Harrisburg Mayor Randy Mills said Harrisburg had a couple new businesses come in. One is a donut shop and diner that serves breakfast and lunch. The other is a pet grooming business. Harrisburg also finished giving out its first round of $2,500 grants for upgrading businesses. Mills said they try to award grants to at least four businesses for city beautification. The next round for the grants will be awarded in June.
Mills added that the city is close to finishing an update on the planning and zoning rules, and construction is planned for another subdivision. "I don't know the numbers, but we're growing. We have people moving in," Mills said. Harrisburg has also been converting its fleet of city vehicles to natural gas to save money. Mills said seven city vehicles have been converted.
Lepanto has a new irrigation fitting business, Mayor Steve Jernigan said. He said the city is working on cleaning up dilapidated houses. Four have been cleaned up, and one is being condemned. Jernigan also talked about Community Development Block Grants. He sent a letter to East Arkansas Planning and Development inquiring about the money, which is available to clean up dilapidated houses. According to the letter from EAPDD Executive Director Melissa Rivers, CDBG funds are first made available to Jonesboro and West Memphis, the two cities in the district designated as Entitlement Cities, and the remaining balance is available for communities with a Low to Moderate Income (LMI) rating of 51%. The letter states Lepanto is not eligible because of an LMI rating of 50.2% "We're not eligible, but small towns need it more," Jernigan said.
Jernigan also discussed the conditions of the Lepanto's two bridges and Tyronza's bridge. "I take complaints on a daily basis about the bridges," Jernigan said. State Representatives Wes Wagner and John Hutchison have been down to look at the bridges, which have deteriorated due to both ice storm damage and wear and tear from gravel and steel trucks, Jernigan said. Jernigan sent a letter to the highway department regarding the bridges but was told their sufficiency ratings were not low enough to be considered for replacement funds.
"We partner with Dyess a lot," Jernigan said. "They've got the Johnny Cash Boyhood Home opening this month. They'll have tourists from all over the world, and the road is horrible."
Waldenburg Mayor William Wood said his city received an $81,000 grant from the highway department to resurface city streets. Waldenburg is also looking for a new city clerk. Unlike most cities which elect their city clerks, Waldenburg hires theirs.
Marked Tree Mayor Mary Ann Arnold said area cities need to work harder to get funding to repair bridges and roads. "Our problem is we don't squeak the wheel enough," she said. Arnold said Marked Tree has a new business, Sugar Creek Cotton Candy Productions, and has torn down a house half-destroyed in fire and is working on tearing down another house on Broadway.
Tyronza Mayor Marion Bearden, who hosted the meeting in Tyronza's Senior Center, said a new restaurant, Tyboogies, is set to open on April 21 in the building that was the old grocery store. Additionally, seven acres have been added to the city park, and the Wall That Heals--the traveling replica of the Vietnam Memorial-- will be in Tyronza for the Stars and Stripes Festival in June. She said a ceremony would be held at the memorial on June 12. "We would love to have as many people as possible come down and view the wall," Bearden said.
County Judge Charles Nix spoke briefly about the I-555 project. Nix said Jonesboro is applying for a TIGER grant for the project and would like Poinsett County to help put up money for the project. "My concern is not to obligate any more than we can obligate," Nix said. One question he had regarded who would have ownership of the highway.
"I don't want to own it because we would bankrupt the county maintaining it," Nix said. He said I-555 would mean a lot for Jonesboro, but the issue for Poinsett County is to figure out how to gain growth from the project as well.