Honeycutt, Hornets shut out Trumann
Friday, April 18, 2014
Brayden Honeycutt allowed out three hits while striking out 11 batters as the Harrisburg Hornets beat Truamnn 12-0 in high school basketball action last Thursday in Trumann.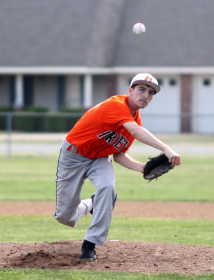 The Hornets got the board early as they scored three runs in the top of the first inning. Matt Walton was hit by a pitch leading off the game before stealing second base. Honeycutt walked to put runners on first and second. Ayson Lamb plated Walton with a RBI single. Lamb stole second base to put two runners in scoring position. Drew Price's ground out scored Honeycutt and Lamb scored on a passed ball to make it 3-0 Hornets.
Harrisburg added two more runs in the second inning as Collin McCrary reached on a fielder's choice and worked his way to third. McCrary scored on a ground out by Honeycutt and Lamb scored on a passed ball to make it 5-0 Harrisburg. Cain White had a one-out double for Trumann in the bottom half of the inning but was left stranded on second.
Harrisburg took advantage of two Trumann errors to add a run in the top of the third inning. Alec Witt was the first to reach on an error and came around to score on a throwing error to make it 6-0 Hornets. Bradlee McAnally led off the Wildcats half of the inning with a single and went to second on a passed ball before Honeycutt struck out the next three batters to end the inning.
McAnally relieved Trumann starter Kevnote Andrews on the mound and didn't fare much better against the Hornets. Honeycutt singled with one out in the top of the fourth and was replace by courtesy runner Connor Haag. Haag scored on Lamb's two-out double to increase the Hornets lead to 7-0.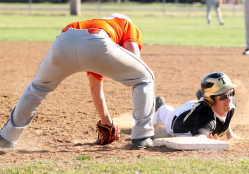 Alec Witt doubled to lead off the top of fifth for Harrisburg. Witt then stole third base and scored when the third baseman missed the throw to make it 8-0 Hornets. Trumann got a lead-off single from Garrett Woods in the bottom of the inning but Woods was left standing on first as the inning ended.
Both teams were quiet in the sixth inning. Harrisburg tacked on four more runs in the top half of the seventh inning to make the score 12-0. Seth Soden was hit by a pitch and went to third on Jake Chatman's single. Brett Horsley drove in Soden and Chatman with a single to make it 10-0. Rory Lambert came on to pinch run for Horsley. Walton singled and ended up at second and Lambert at third on a Wildcat error. Lamb's single scored Lambert and Walton to set the final score at 12-0 Harrisburg.
Honeycutt got the win for Harrisburg with a complete game three-hitter. He allowed no runs and struck out 11 while walking none.
Honeycutt and Lamb each collected two hits on the day with Honeycutt adding three RBIs and a run scored and Lamb driving in two runners with a run scored and a stolen base. Walton scored three runs, Witt scored twice and Horsley had two RBIs.
Andrews took the loss for Trumann going three innings giving up six runs only one hit while walking three, striking out two and hitting two batters. McAnally pitched the final four innings allowing six runs on seven hits. He struck out three and hit two batters.
White, Woods and McAnally each had a hit for Trumann.