Indians drop key conference outing
Friday, April 18, 2014
Devon Austin gave up a run in the top of the first inning and then kept the Marked Tree batters off balance with a nice mix of curve ball and fast balls as Riverside posted a 4-1 win in a key 2A-3 conference game this past Friday in Lake City.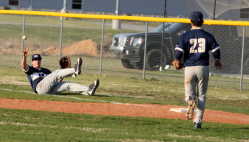 Brody McCrary and Blake Daniels had back to back one-out singles putting runners on first and second. The duo then pulled off a double steal before McCrary scored on a fielder's choice ground out from Hunter Pitts to take a 1-0 lead. Gavin Stone was hit by a pitch leading off the bottom of the first for the Rebels. Stone went to second on a passed ball and Devon Austin walked. Both runners advanced on a wild pitch and Stone scored when Matthew Fraser grounded out to first to tie the game at 1-1.
Neither team did much in the second inning but Riverside plated two in the bottom of the third inning to take a 3-1 lead. Fraser was hit by a pitch leading off the bottom of the third and was replaced by courtesy runner Dylan Austin. Larry Tilley singled and Caden Barrett walked to load the bases for Riverside. Levi Reed plated Dylan Austin with a sacrifice fly and Branden Towery doubled to score Tilley. Marked Tree got a double play to get out of the inning.
Reno Frazier got a two-out single for Marked Tree in the top of the fourth inning and went to second on a passed ball. Frazier was left stranded on second when Daniel Rucker grounded out. Michael Mann doubled to start the bottom of the inning. Stone bunted for a base hit sending Mann to third before Mann scored on a sacrifice fly by Fraser to make it 4-1 Rebels.
Marked Tree threatened in the top of the fifth inning as Ricky Harmon walked to start the inning and McCrary got a one-out single. The runners advanced to second and third on a ground out but Devon Austin struck out Octavious Dean to end the inning. Riverside looked to add run as Luke Baker doubled with one-out but was left on third as McCrary got back to back ground outs leaving the score at 4-1.
Marked Tree got runners on second and third in the top of the sixth inning as Hunter Malone walked with one-out followed by a Frazier single. Rucker popped out and Harmon struck leavings the runners stranded. Riverside went three up and three down in the bottom half.
Bailey Gilbert lead off the seventh inning with an infield single. Devon Austin struck out the the next two batters before Dean drew a walk. Pitts popped out to first to end the game giving Riverside the 4-1 win.
Devon Austin got the win for the Rebels pitching all seven innings allowing one run on six hits while walking three and striking out nine.
Stone, Towery and Mann each had two hits with Fraser finishing with two RBIs. Stone, Tilley, Mann and Dylan Austin each scored a run for Riverside.
McCrary took the loss for Marked Tree as he pitched six innings and allowed four runs on eight hits. He walked four, struck out six and hit two batters.
McCrary and Frazier each had two hits, McCrary scored a run and Pitts had a RBI for the Indians.