Lady Indians gain win over EPC
Friday, April 18, 2014
Marked Tree (5-6, 4-4 2A-3) made it a regular season sweep of their 2A-3 conference rivals EPC (6-6, 2-4) Lady Warriors with a 12-3 this past Tuesday in Lepanto.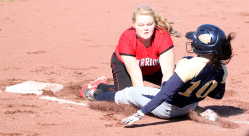 Marked Tree looked to get on the board in the top of the first inning as they loaded the bases but couldn't get a run across. A running error cost the Lady Indians a run before Kaylan Wilson retired the last two batters to get out of the jam. The Lady Warriors did however get on the board in the opening inning. Wilson singled with one out and came around to scored when Lexi Driver reached on error then advanced to third on a throwing error to make it 1-0. Stacy Mott plated Driver with a RBI single to make it 2-0 after one.
The Lady Indians took the lead in the top of third as they pushed across three runs to make 3-2. Jay Perry reached on an error and went to third on a bad throw. Perry scored when Kelsey Pitts reached on an error. Pitts stole second and third before scoring on a wild pitch to make it 2-2. Tanna Tacker, Breanna Francis and Madison Carroll all drew walks to load the bases. Bailey Dunn singled to bring it Tacker making it 3-2 Marked Tree. Wilson got the next two batters leaving the bases full of Lady Indians.
Marked Tree increased their lead by scoring five more runs in the top of the fourth inning. Holly Smith walked and advanced to second on a wild pitch. Perry singled to score Smith making it 4-2. Perry took advantage of the outfielder having trouble getting the ball and ended up on third base. Pitts drew a walk before Perry scored on a sacrifice fly from Tacker to make it 5-2. Pitts scored after getting in a rundown between third and home when the ball was misplayed on a throw to give EPC a 6-2 lead. Francis reached on an error and later scored on a Dunn single. Dunn came around to score on a Abigail Hobbs single to make it 8-2. EPC got a run in the bottom half of the fourth as Amelia Worsham had a lead off walk, worked her way to third via a passed ball and an error before scoring on a passed ball to make it 8-3 Lady Indians.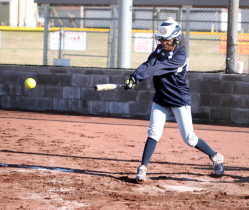 Marked Tree tacked on two more runs in the fifth as Perry legged out an infield single, stole second and scored on a single from Pitts. Pitts stole second and ended up scoring on an error to make it 10-3 Lady Indians.
The Lady Indians added two more runs as Hobbs scored on a bunt single from Perry in the sixth and Dez Reel scored on a single by Hobbs in the seventh to set the final at 13-2 Marked Tree.
Carroll got the win for Marked Tree pitching all seven innings giving up three runs on six hits. She walked four and struck out four.
Perry led Marked Tree at the plate as she collected four hits, scored three runs with two RBIs and a stolen base. Pitts had a hit, three runs, a RBI and three stolen bases as Dunn and Hobbs each had two hits with two RBIs and a run scored.
Wilson took the loss for the Lady Warriors pitching four innings giving up eight runs on six hits while walking six and striking out two. Freshman Sarah Tacker came on in relief and pitched the final three innings. She gave up five runs on five hits while walking two and striking out one.
Mott had two hits and a RBI for EPC as Wilson and Driver each had a hit and a run scored. Worsham scored a run for the Lady Warriors.